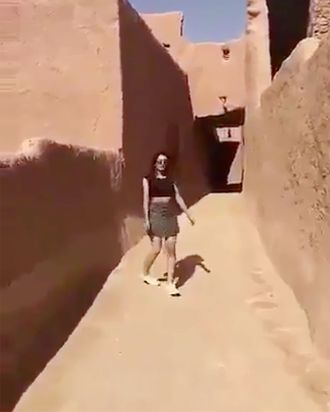 A young woman filmed herself touring a Saudi village in a miniskirt.
Photo: Courtesy of Twitter/KHALED_Z_KSA_24
A day after police in Saudi Arabia arrested a young woman who filmed herself touring a Saudi village while wearing a miniskirt and a crop top, the Associated Press reports that she's been released without charge. Police began their search for the woman, who BuzzFeed News identified as Model Khulood, after she posted the video to her Snapchat account over the weekend, where it immediately drew the attention of Twitter users. According to a translation, the warrant issued for her arrest described Khulood as "taking photos in indecent clothing, disrespecting and violating the teachings of Islam, and violating the customs and traditions [of the country]."
Saudi Arabia's Commission for the Promotion of Virtue and the Prevention of Vice also put out a statement regarding the video, saying it was "coordinating with the authorities to investigate [it]."
In Saudi Arabia, women are legally required to wear abayas, or long cloak-like robes that obscure their figures. They're also required to cover their hair, and most cover their faces, too.
On Twitter, many chastised Khulood for flouting the dress code. "We demand that Khulood be tried because she acted irresponsibly," one Saudi tweeted, according to BuzzFeed. "Whether you like it or not, you have to respect the law. If everyone rebelled against the law because they did not like it, it would be a mess."
Saudi state TV announced Khulood's arrest on Tuesday and said she'd been sent to the public prosecutor. A day later, a statement released by the Center for International Communication said she'd been released "after a few hours of questioning." It added that the video was posted "without her knowledge."
This post has been updated throughout.