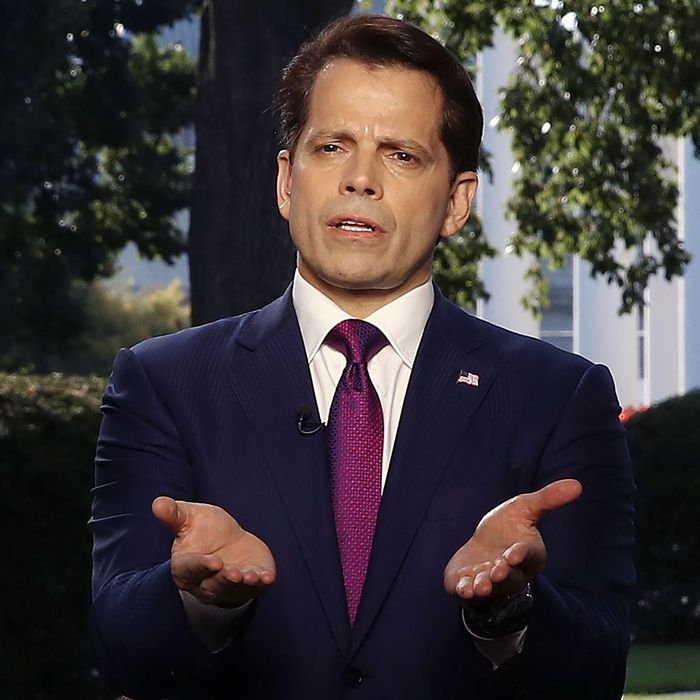 Ey woah.
Photo: Mark Wilson/Getty Images
The Trump administration has had a fair amount of turnover and dysfunction so far, but nothing has been quite as brief, intense, and hilariously catastrophic as Anthony "the Mooch" Scaramucci's tenure as communications director. Ten days after Trump first hired the petite New York financier, the New York Times reports that he's already been fired.
Go ahead and pour out a jar of marinara sauce, press play on "The Graduation Song," and take a look back at the Mooch's time with us.
Day 1: Friday, July 21
On Scaramucci's first day on the job, Sean Spicer — former White House press secretary and most humiliated man in the Trump administration — resigned, rather than work with him.
Day 2: Saturday, July 22
Scaramucci came forward to admit that he was deleting old tweets in the name of transparency. And by transparency, he meant "all the times he vehemently and publicly disagreed with his new boss."
He did not, however, back down from calling the Entourage movie a "classic."
Day 3: Sunday, July 23
The Mooch went on Fox News to assure the American public that the president is not planning to pardon himself, "he was just making the statement about the power of pardons."
Day 4: Monday, July 24
While talking about his plan to make Sarah Huckabee Sanders better at her job, Scaramucci told CNN's Jake Tapper that he'd like her to use a particular hair-and-makeup artist he prefers. Somewhere in D.C., Sanders is staring out the window, clutching her Ann Taylor cardigan, and whispering to no one: "I'll outlast them all."
Day 5: Tuesday, July 25
Scaramucci dramatically told Face the Nation that if leaks continued, he would "fire everybody." He appears to have been wearing women's "active" Oakleys at the time.
Day 6: Wednesday, July 26
Scaramucci accused Reince Priebus of being behind the leaks on Twitter, threatened an FBI investigation, then later deleted the tweet.
Day 7: Thursday, July 27
This was the day Scaramucci truly became communications director.
For starters, he thought it would be a good idea to quote disgraced Penn State football coach Joe Paterno when discussing honor on CNN.
The Mooch also gave a BBC interview in which he insisted that Trump was not an elitist with this argument: "Oh my god, there's so many things about the president. How about the cheeseburgers? How about the pizza that we eat?"
But we barely had time to consider the pizza when The New Yorker published a bombshell interview with Scaramucci. He had called reporter Ryan Lizza the night before and went on an unhinged tirade, forcing one of the most esteemed publications in the world to publish the following quote on autofellatio: "I'm not Steve Bannon, I'm not trying to suck my own cock."
As for Scaramucci, here's how he handled it.
Day 8: Friday, July 28
It was reported that Scaramucci's wife of three years, Deidre Ball, filed for divorce, with sources saying she wasn't a fan of his "naked ambition" and Trump in general.
On the same day, his rival, Priebus, was kicked out of the chief of staff role and replaced with General John Kelly.
You win some, you lose some.
Day 9: Saturday, July 29
More news was revealed about the Scaramucci divorce proceedings. For starters, Ball filed three weeks prior … when she was nine months pregnant. And Scaramucci didn't even show up to the birth of his child, choosing instead to text, "Congratulations, I'll pray for our child."
Day 10: Sunday, July 30
The calm before the storm.
Day 11: Monday, July 31
Arrivederci, bud.