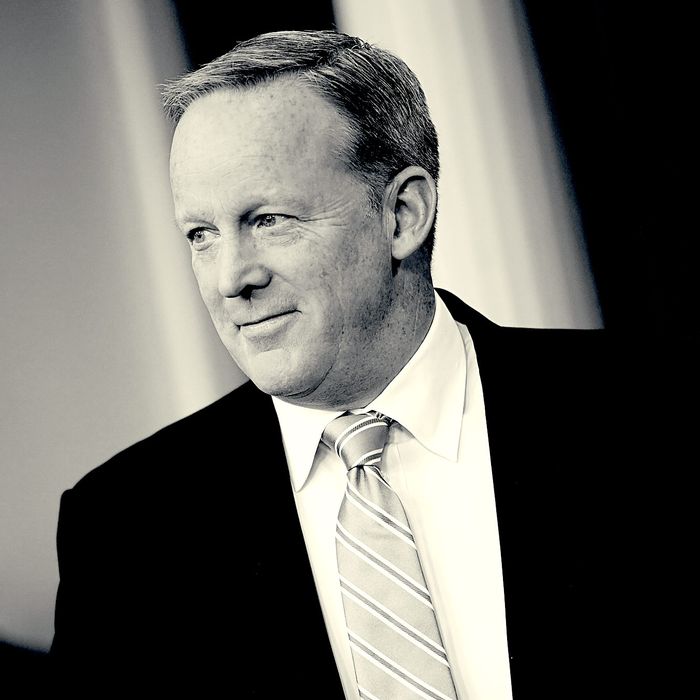 Sean Spicer is a multitalented dude.
Photo: 2017 Getty Images
Thanks to the White House's new penchant for off-camera briefings, we haven't seen much of Press Secretary Sean Spicer lately. But in early June, New York Times reporter Mark Leibovich stopped by his White House office right before Spicer was scheduled to go on Fox News. This, as it turns out, was perfect timing, because how else would we have learned that Spicer is pretty adept when it comes to applying foundation?
Spicer's adviser stepped in to remind him that he had a TV interview to do in a few minutes. He walked over to a small desk in the corner of his office and started rubbing on foundation. I made a verbal note of this into my tape recorder. ''Don't you dare,'' Spicer said, ''just so we're clear.''




''You're putting on makeup,'' I said.




''You're going to say that in the story,'' he charged, ''that I'm putting on makeup?''




''Well, you are.''




''I'm going on my way to a television hit,'' he said. He patted his cheeks a few times with a makeup puff.




''That's fine,'' I said.




''So, as long as it's in context.''
Why didn't Spicer want that particular detail in the story? ''I believe there are too many reporters who are looking for some snarky angle,'' he explained — that, or he didn't want to reveal the secret to his "no-makeup makeup" look.