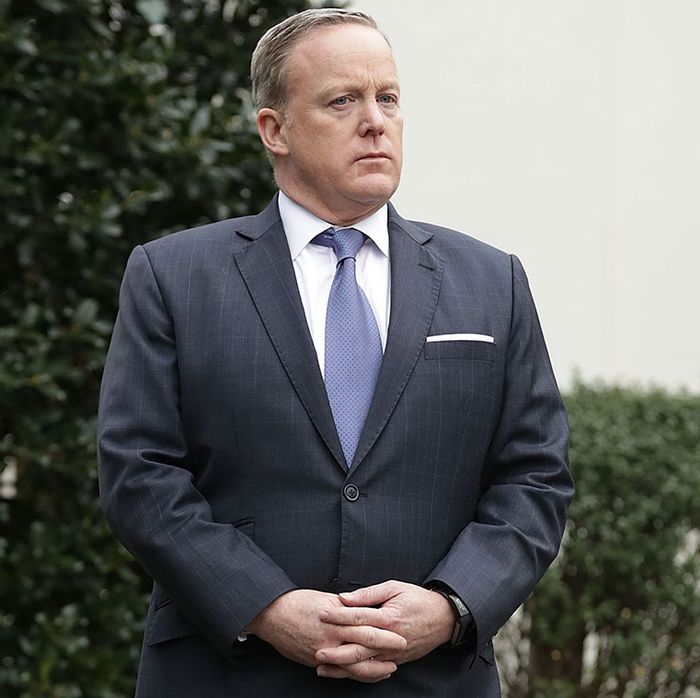 Photo: Chip Somodevilla/Getty Images, Kelsey McNeal/ABC
Mini-fridge thief Sean Spicer was in New York on Wednesday, where he reportedly met with several networks about kicking off a career in broadcast news after resigning from his post as White House Easter bunny. But as "Page Six" reports, those meetings may have been pointless, because Spicer has already been approached about the Spicey-est gig imaginable: Dancing With the Stars.
Already a pro at applying his own foundation (the first step to becoming a television star), Spicer reportedly had meetings at Fox News, NBC, CBS, and ABC — the latter of which just so happens to air Dancing With the Stars, the dancing competition show that previously counted energy secretary and recent prank-call victim Rick Perry as a contestant. Apparently some of the network news executives "made the full-court press" to try to lure the former White House press secretary to their ranks, while others "just kicked the tires," a "source" told "Page Six."
Yet, a "TV insider" confirmed to "Page Six" that the dancing show reached out to Spicer — "That has legs," the source said, making an excellent pun. Spicer declined to comment on the matter, and an ABC representative told the gossip column, "We don't comment on casting," so it's unclear if Spicer has accepted his dance-related destiny at this time.
We can only assume Spicer would do us all a solid and recreate Marla Maples's recent Dancing With the Stars cartwheel if he joins the show.