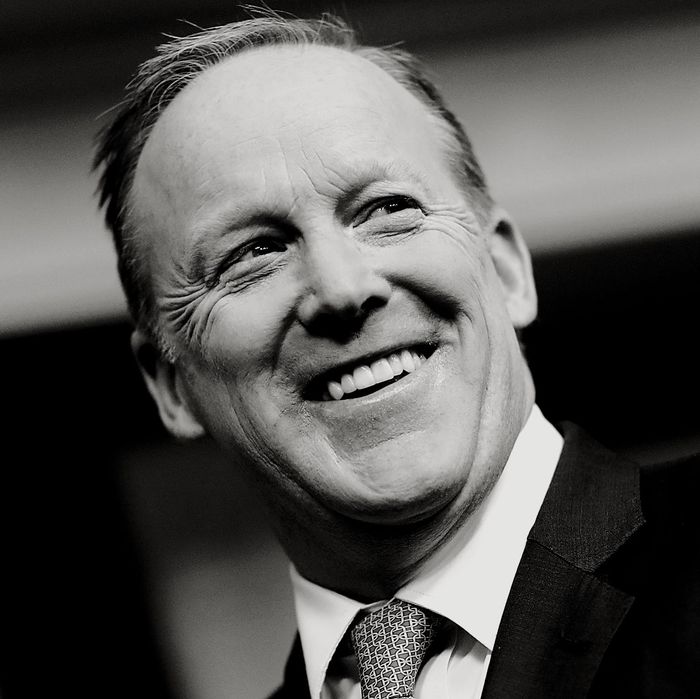 Sean Spicer had a good day yesterday.
Photo: 2017 Getty Images
Former press secretary Sean Spicer's days of beer-jockeying and playing Instagram husband are finally behind him, and if a Politico report from Capitol Hill is any indication, he couldn't be happier about it. Spicer reportedly "gleefully bounded" up the White House driveway Thursday just as Sarah Huckabee Sanders wrapped up her press briefing.
While there, he seemed to revel in the fact that he was under no obligation to answer anyone's questions.
"Today's not the best day to ask me," he said in response to a question about why no one is defending Reince Priebus in the face of Anthony Scaramucci's attacks. And when someone asked him about Trump's stance on allowing transgender soldiers to serve in the military, he replied, "You can ask Sarah."
Although he'll be at the White House for another month to "ensure a smooth transition of the communications department," Spicer is reportedly spending a good chunk of time lining up his next gig — and he seems stoked about it. "This is the phase where you just say, 'Hi' to everybody," he said of his meetings with TV executives in New York.
But is he considering a stint on Dancing With the Stars, which reportedly reached out to him? "I'm not going to tell you that," he said.