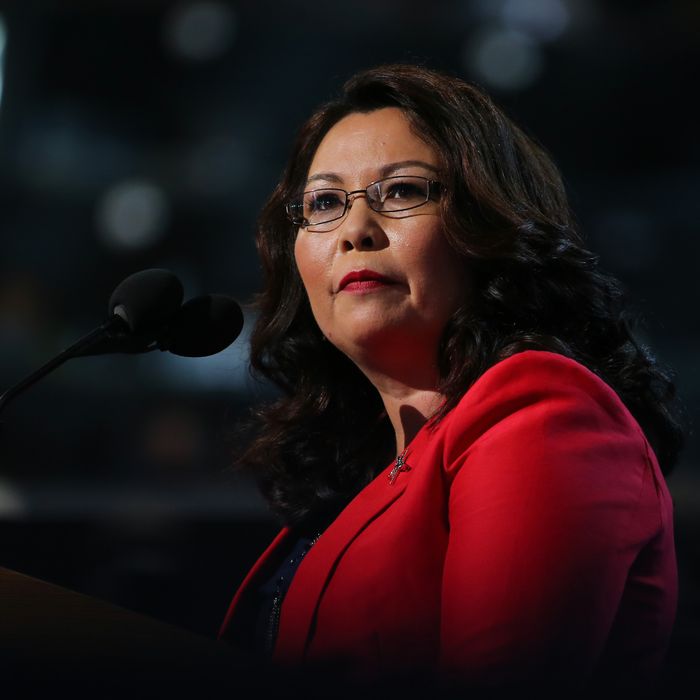 Tammy Duckworth.
Photo: Joe Raedle/Getty Images
President Trump tweeted on Wednesday morning that transgender individuals will not be allowed to serve in the military "in any capacity." The decision has already been widely criticized by lawmakers on both sides of the aisle, including Democratic senator Tammy Duckworth, an Iraq War veteran who lost both her legs in combat. In an interview with Anderson Cooper on Wednesday night, Duckworth criticized the policy and referenced her own military experience.
When I was bleeding to death in my helicopter after that RPG ripped through the cockpit of the aircraft, and an American came to save my life, it didn't matter to me if they were gay, if they were straight, if they were transgendered, it only mattered that they wore the uniform of the United States military, and I will always remember that.
Duckworth also referenced the fact that, by one estimate, the cost of health care for transgender service members was around $5.6 million, while in a single year, the Pentagon spent over $40 million on Viagra. "So, if you want to talk about costs, there are other places where you could cut," she quipped.
It remains unclear how the policy will affect transgender service members on active duty. Defense Secretary Jim Mattis was reportedly only given a day's notice about the decision and, of the eight defense officials the New York Times reached out to for comment, none could say how it would be implemented.
Watch the full video of Senator Duckworth's interview here.