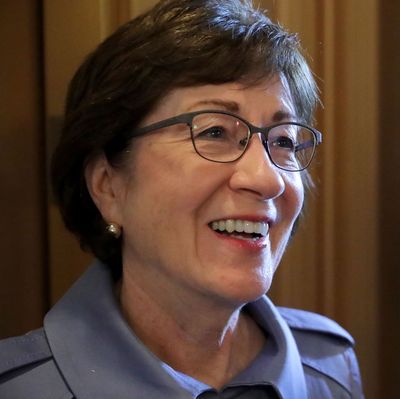 Senator Susan Collins was one of only three Republicans to vote down the Senate's health-care bill.
Photo: Chip Somodevilla/Getty Images
Despite male lawmakers expressing a desire to duel her and suggesting that "somebody … go over there to that Senate and snatch a knot in [her] ass," Maine senator Susan Collins was just one of three Republicans to vote down the Senate's health-care bill last week, which would've repealed certain provisions of Obamacare. The vote occurred in the wee hours of Friday morning, and on Friday afternoon, Collins was applauded as she made her way through Bangor International Airport in her home state.
"I got off the plane and there was a large group of outbound passengers, none of whom I happen to know, and spontaneously some of them started applauding," she told CNN's Jake Tapper on Sunday. "And then virtually all of them started to applaud. It was just amazing."
Collins added that, "I've never had that happen in the 20 years that I've been privileged to serve in the Senate. So it was very encouraging and affirming, especially after arriving back home after a very difficult time."
Alaska senator Lisa Murkowski and Arizona senator John McCain were the other two Republican holdouts who helped sink the bill. McCain's vote was something of a surprise, but given that Collins voted "no" on a motion to proceed with debate on the bill earlier that week, hers was pretty much expected — and even Vice-President Pence knew it. Collins said that just before the vote, he tapped her on the shoulder.
"He said to me, 'Boy, are you tough,'" she said. "But he softened that by putting his arm around me." How nice.