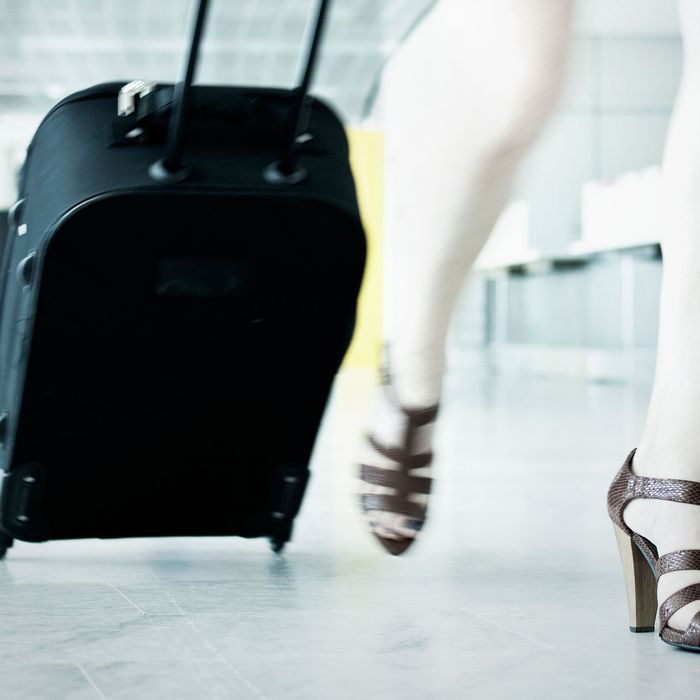 Get Sex Diaries delivered every week.
New York's Sex Diaries series asks anonymous city dwellers to record a week in their sex lives — with comic, tragic, often sexy, and always revealing results. This week, a project manager excited to meet up with an ex in the U.K.: 44, straight, divorced, UES.
DAY ONE
3:45 p.m. I'm shoving a bunch of shit I'll never wear, use, or need into an already-overflowing suitcase. I always do this when I travel: waste a ridiculous amount of valuable space on clothes and toiletries and things that might come in handy. Tomorrow I'm flying to England for ten days — if I were being reasonable, I'd only pack an umbrella, a raincoat, and a pair of wellies. But I'm feeling optimistic and decide to leave the rainwear out to make room for a sparkly jumpsuit and another pair of Louboutins that hurt too much to wear for more than 45 minutes.
5:30 p.m. P. sends me a dick pic to remind me of what I'll be getting soon. Normally, I think dick pics are lame — I get plenty of them on the dating apps. But P.'s dick is exquisite: really long and thick and veiny.
I guess you could call P. my ex. He's British, and we met in Prague nine years ago when we were each on weekend trips with our respective friends (I lived in the U.K. for 11 years, from 2004 to 2015). I was drinking in a bar with my friend when P. and his friend started speaking to us very loudly and slowly. I asked him if he had learning difficulties and he burst out laughing — they thought we were Swedish and didn't speak English because my friend and I both have blonde hair! That story still makes me crack up today. I gave P. my number as we were leaving but didn't think he would ever call because there's a big age difference between us — I was 36 at the time and he was 21. But he called two days later and arranged a date. We had loads of laughs over dinner then went back to my place and had sex all night and the following morning. After that, we saw each other off and on for about seven or eight months until I moved to a different part of the country.
Over the years we've stayed in touch, arranging hookups here and there until he got back together with his ex-girlfriend and she moved in with him. He sent me a message last week asking when I would be back in England because he was single again. What a happy coincidence my trip was a week away!
8:15 p.m. Packing is pissing me off, so I open a bottle of Prosecco and check my dating apps. Same old shit. I have my preferences set for men between the ages of 25 and 40 because I don't go out with men my age anymore. They're so boring, or too career focused (why bother trying to date if you can't make the time?), or worst of all, they're broken from a recent divorce. I had one guy start crying on our first (and only) date while telling me about buying his ex-wife's new boobs, fillers, and Botox, after which she had an affair and left him. It was pathetic. Younger men are more fun — life and/or women haven't ruined them yet.
DAY TWO
7:30 a.m. I wake up to find P. has sent me more photos of his hard, veiny cock. What a way to start the day! My mouth is actually watering looking at them.
11 a.m. I call my friend Kate in the U.K. to finalize some plans we've made for a few nights out while I'm visiting. I love her — she's hilarious, filthy, generous, gorgeous, thin, smart, and rich. She's probably my best friend over there. She's only 31 but from my experience, once you hit your late 20s, age really is just a number.
Most of my friends are in their 30s. I met the majority of them while working as a resourcing coordinator at a professional-services firm in northwest England. The pay is good at places like that, but they work you to death and you can be in the office up to 14 hours a day with your colleagues during the busy season. It's hard to spend that much time together without becoming friends.
2 p.m. Must stop looking at P.'s beautiful dick. I really need to finish packing and head to the airport. Just one more glance …
DAY THREE
2 p.m. (U.K. time) I have landed in England and am finally HOME! I should probably explain why I consider England home: It's because my ex-husband is British. We met in 2000 when we were both working on a cruise ship based in New York. I got pregnant very early in our relationship, so we left the ship and got married in Florida when our son was a year and a half old. We lived in Miami for a year, Vegas for a year, and on an island in Southeast Asia for 2.5 years before relocating to the U.K. so our son could start kindergarten. I left my husband about three years later because I didn't love him — I don't think I ever did. Plus, he was turning violent toward me.
I'm very placid and will do anything to avoid confrontation or an argument. This really frustrated him — he was constantly trying to pick fights with me and failing. Once he was yelling at me and called me a cunt before punching a hole in the wall right next to my head. I managed to get away from him and a few minutes later my son asked me what a cunt was. That's when I knew I needed to get out of our marriage.
I don't have any regrets about that period of my life because even though it didn't work out with my ex, I have an amazing son who is now 18 years old and the funniest, smartest, kindest child. We have the perfect mother-son relationship. He's my son and my friend, and I can't wait to see him! I moved back to the U.S. last year to take care of my father, who is very sick. It was hard, moving away from my son and giving up the life I'd made in the U.K., but it was the right thing to do.
3:30 p.m. I'm in my flat, exhausted. My trip was super stressful: I missed two connections due to the fucking weather, the airline lost my luggage, my bank put a fraud block on my cards, and the mobile team at work forgot to enable worldwide roaming on my phone. AAAAAAAAAAAAAAARRRRGH!
4 p.m. The Wi-Fi is shit here, but I finally manage to get on and send a message to P. asking if we can reschedule for the following day since this day has been so stressful. He tells me to take a nap, then see how I feel.
6 p.m. I slept for a few hours and feel so much better. P. is a genius. I take a shower and get dressed in a black corset and fishnet stockings with a demure pink dress over the top — he loves it when I dress like this.
8 p.m. I've been a bit nervous about tonight since it's been a few years since I last saw P. Will he think I look old and haggard? But when he arrives at the flat, he seems pleased. I pour us drinks and then we spend the next couple of hours talking and catching up. There's no awkwardness at all.
11 p.m. We're in the bedroom and starting to kiss. He's a very good kisser — I don't think I could date someone who doesn't know how to kiss. He gets undressed and is already rock-hard. In response, I take my dress off, climb on top, and start riding him. I know how much he loves his dick in my mouth (I love it too), so I work my way down and play with his balls while I suck him until he comes in my mouth (I swallow). After resting a few minutes, P. is hard again. He gets on top of me and buries his cock deep inside; we fuck slowly for a few minutes and then he starts thrusting harder and faster. We both come hard and fall asleep quickly.
DAY FOUR
7 a.m. I wake up to P.'s erection pressing into the small of my back … I've missed that! I want to fuck him so badly, but my son came over with his girlfriend in the middle of the night. They're in the second bedroom and the walls are so thin in this flat, you can hear everything. P. tells me that knowing my son is in the next room turns him on, which turns me on. I get on top of him and we fuck quietly until he flips me over and starts to put his dick in my ass. I never used to like anal, but I really enjoy it with him — he loves it and seeing how turned on he gets just does something to me. I whisper for him to fuck my ass harder until he comes inside me. After we cuddle for a bit, P. leaves, but not before we make plans for him to come over the next day. I already can't wait.
Noon My son was kind enough to get out of bed so I take him and his girlfriend for lunch. Even though we're all a bit hungover, it's really nice to see them both. I like his GF — they laugh a lot, and they look genuinely happy together. It's warm and sunny outside; the entire city is out and about. We finally find an empty outdoor table and sit down, order lunch and a few drinks, then make plans for the rest of the week.
8 p.m. We're all a bit tipsy, so decide to go back to the flat to order pizza.
9:30 p.m. Time for bed. I pull back the duvet — the sheets look like a crime scene from last night and this morning with P.! (We used a bunch of strawberry lube.) I lay my head on the pillow he slept on. His smell's still there.

DAY FIVE
7:30 a.m. I wake up in a wonderful mood because P. will be fucking me in less than four hours! I jump in the shower and do the "big shave."
10:30 a.m. I give my son some money to take his girlfriend out for breakfast. This way, he'll be out of the flat before P. comes over.
10:52 a.m. P. arrives at 10:52 and by 10:53 I am on my knees with his cock in my mouth. After a few minutes, I tell him to get on top of me and fuck me hard — this is my favorite position with him because he goes so hard and deep. P. loves it too; he says it makes him feel like a man. Once we're done, we get dressed and walk to a bar around the corner where he buys us a drink before he has to leave. He holds my hand while we're walking — I can't help but smile. I won't see P. again while I'm home because my schedule is packed.
2 p.m. I meet my son for lunch. We sit outside again because the sun is shining — this really is a rarity in the U.K.! We talk about everything and nothing while I have a few glasses of wine and he has a couple of pints.
6:30 p.m. My Swedish friend Linda meets us and we have another bottle of wine before heading back to her flat. I attempt to make dinner but am too drunk to pay attention to our food and end up burning the Brie and bacon pie. We order pizza. Again.
10 p.m. I am exhausted from the morning's activities with P. and an all-day drinking session in the sun. Time for bed.
DAY SIX
3 p.m. I am beyond hungover and feel like absolute shit. I couldn't sleep last night in spite of my drunkenness, and ended up in the Gay Village with my friend Rob. We didn't get home until 5 a.m. and I'm painfully aware that I'm getting too old for this sort of behavior. I'm supposed to be in a town two trains away by 5:30 but can't seem to drag myself out of bed and into the shower. I'm glad P. is not on the agenda today because there is no way I would be able to perform. No way at all. Not even for him.
6 p.m. I finally caught my trains and have arrived at my friend Debbie's house. She's my most sensible friend and also in her 40s. She's just a really good person, into politics and trying to make the world a better place. She married her high-school sweetheart at 18 and they're still going strong. We have a fun evening catching up.
DAY SEVEN
10 a.m. Today is another good day. My boss gives me the okay to work remotely from the U.K. for five weeks later this summer.
1 p.m. P. is also pleased with this news!
2:30 p.m. Sometimes I worry that P. will meet another woman closer to his age that will make him happier than I like to think I do. A lot could happen between now and when I return. He's quite a catch — tall, nice looking, very funny, kind, generous, laid back, sensible, and with a good job, a house he owns. Things like that are important to me now that I'm over 40. I like how P. has his shit together. And of course, I love his dick.
Get Sex Diaries delivered every week.
Want to submit a sex diary? Email sexdiaries@nymag.com and tell us a little about yourself.