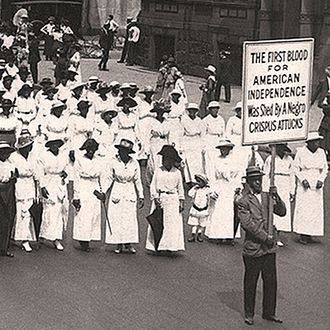 The Silent Protest Parade.
Photo: Getty Images
On July 28, 1917, ten thousand African-Americans marched down Fifth Avenue in New York City to protest a string of lynchings of black people that happened in St. Louis during riots between May and July of 1917. Today marks the hundredth anniversary of what is believed to be one of the first civil-rights protests in America.
During the Silent Protest Parade, African-Americans marched silently from 55th to 59th Street downtown — women and children dressed in white and men dressed in black — in response to the lynchings of between 50 and 200 black people by white mobs at the turn of the century. As the New York Times reported then, the parade was "intended as a protest against lawless treatment" of black Americans.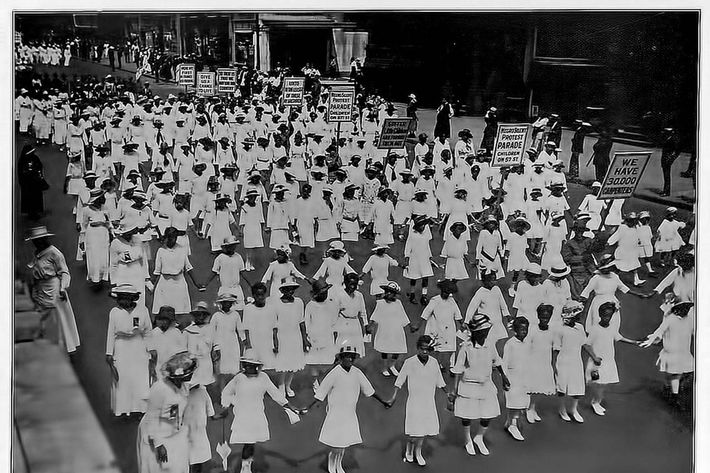 To organize the march, the NAACP distributed a flyer detailing their reasons for protesting. In "Why Do We March?" the organizing committee wrote, "We march because we deem it a crime to be silent in the face of such barbaric acts," and "We march because we want our children to live in a better land and enjoy fairer conditions than have fallen to our lot." A petition was also sent to the White House, urging Woodrow Wilson to take a stand against the lynchings. The St. Louis Riots are seen as one of the bloodiest episodes of racial discrimination in U.S. history.
To commemorate the centennial of the Silent Protest Parade, the Beinecke Rare Book and Manuscript Library at Yale University has arranged for photographs and documents from the parade to be displayed — Hyperallergic has reprinted a number of them here. Additionally, today's Google Doodle marks the centennial, and the tech company has partnered with the Equal Justice Initiative in a project that shares stories of the history of lynching in America.