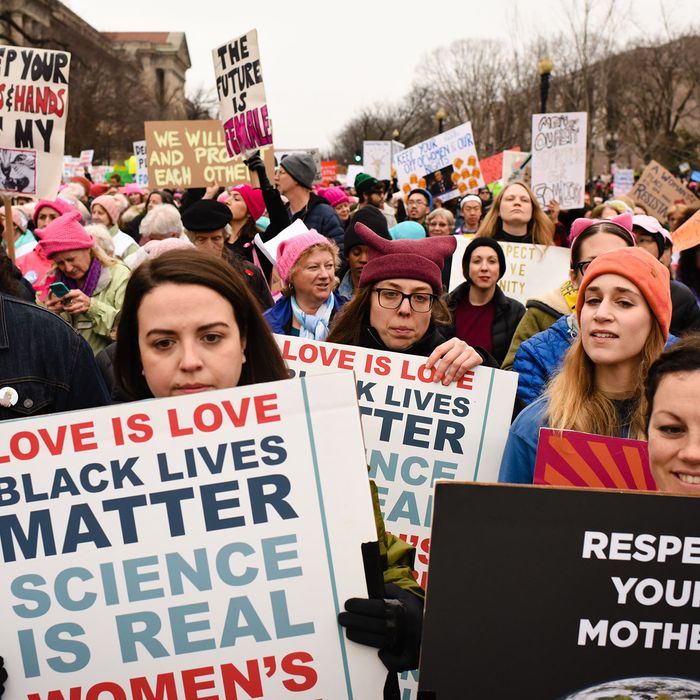 Women protesters in Washington, D.C.
Photo: 2017 The Washington Post/Getty Images
After Donald Trump was elected president, millions of women across the country took to the streets in protests. Thousands more plan to run for office to fight back against the policies he's introducing, and suburban women became the new face of activism in Georgia's special election. Women seemed to be taking a leading role in "resisting" Trump, and new data from the Pew Research Center confirms it.
According to a new report from Pew, most Americans say they're paying more attention to politics. A survey of 2,505 adults found that 52 percent reported paying more attention to politics since Donald Trump's election; 33 percent said they're paying the same amount of attention; and just 13 percent said they're paying less attention.
But among those who say they're paying more attention to politics, there's a pretty significant gender gap: almost 60 percent of women answered that question in the affirmative, whereas just 46 percent of men did the same. And that gender gap crosses party lines:
There are similarly wide gender gaps in heightened interest to politics among members of both parties: 63% of Democratic women say they are more attentive to politics, compared with 51% of Democratic men. Among Republicans, 54% of women and 43% of men say the same.
There's also a gender gap among those who say it's say it's "stressful and frustrating" to talk to people with a different view of Trump — 64 percent of women characterized their conversations that way, compared to 54 percent of men. And although Pew doesn't offer any explanation for the gender divide, the answer seems … pretty obvious.