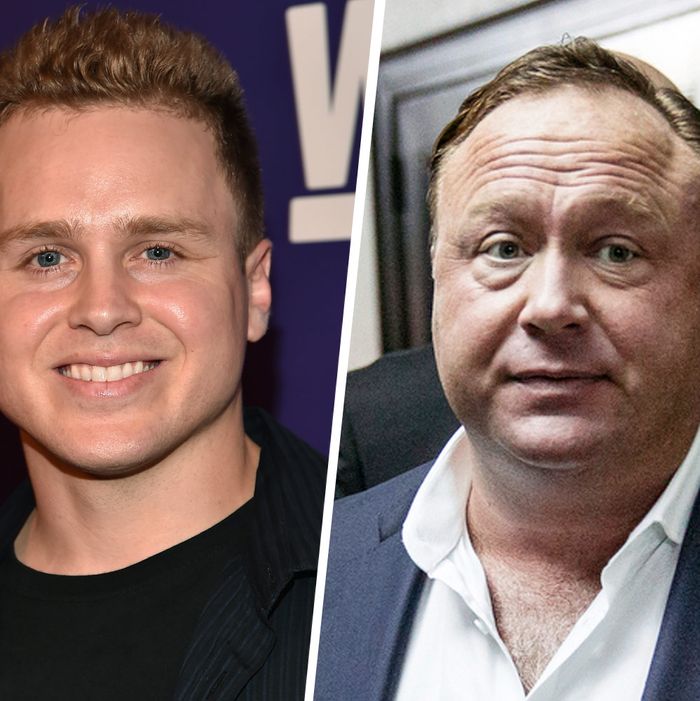 Spencer Pratt, Alex Jones.
Photo: Getty Images
In what may just be the greatest buddy comedy set-up since Huma Abedin and Fitz from Scandal went to Disney together, crystal aficionado and former Hills star Spencer Pratt — along with wife, Heidi Montag, who is seven months pregnant — is coincidentally vacationing at the same Hawaiian resort as far-right Infowars host and professional vitamin salesman Alex Jones.
Much to our delight, Pratt has been chronicling his Jones run-ins on Twitter, which began yesterday with some poolside stalking, but they were taken up a notch today when Pratt seemingly sidled up for a chat at the resort buffet.
"You got more famous than Speidi now," Pratt tells Jones, who demurs "I don't know about that." "You are, you took our game!" Pratt insists.
And this strange friendship is only just beginning. Pratt told the Cut he and his conspiracy-theorist friend are planning to go snorkeling together today, and that they're "gonna go find some turtles."
Hope the water doesn't turn the turtles gay!