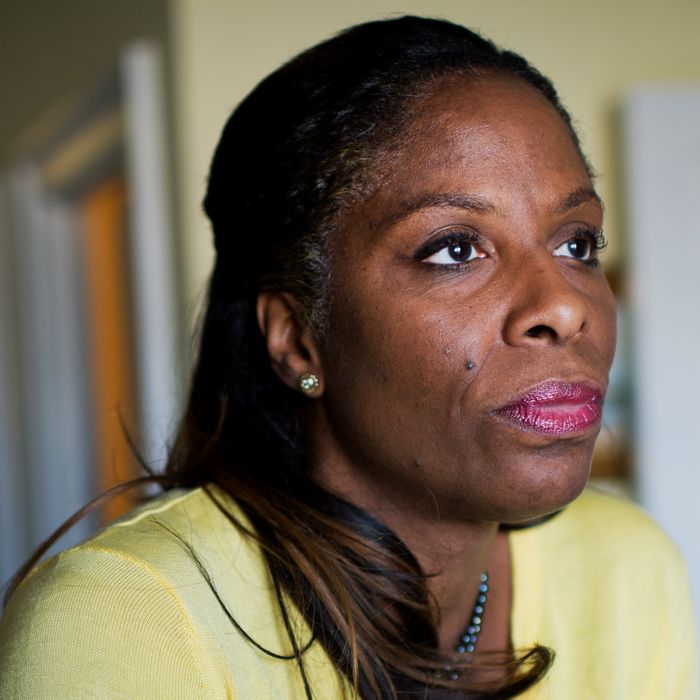 Stacey Plaskett.
Photo: Tom Williams/CQ-Roll Call,Inc.
On Thursday, federal prosecutors and U.S. Capitol Police announced that two former staffers for delegate Stacey Plaskett, a Deomocrat from the U.S. Virgin Islands, have been charged in the circulation of nude photos and video of Plaskett and her husband.
Juan McCullum, 35, is charged with two counts of cyberstalking, and Dorene Brown-Lewis, 45, has been indicted on two counts of obstruction of justice. Both aides worked for Plaskett between early 2015 and mid-2016, McCullum as a legislative counsel, and Brown-Lewis as a scheduler. McCullum previously appeared as "Pretty" on the VH1 reality-TV show I Love New York.
According to the charges brought by the U.S. Attorney for the District of Columbia, in March 2016, McCullum offered to take Plaskett's malfunctioning iPhone in for repairs. Plaskett gave him the password, and he took it to a D.C.-area Apple store.
Authorities claim that at some point while the phone was in his possession, McCullum created Hotmail and Facebook accounts under a fake name to disseminate nude photos and videos of Plaskett and her spouse that he had found on the device.
McCullum stopped working for Plaskett, the nonvoting delegate to the House of Representatives from the U.S. Virgin Islands, in June 2016. A month later, some of the photographs began appearing online before Plaskett's primary election.
"To say my family and I are greatly upset would be a tremendous understatement," Plaskett said at the time the photos appeared, "The theft and dissemination of these images via the internet is a shockingly disgusting invasion of my family's and my privacy — not to mention criminal acts in violation of both territorial and federal law."
McCullum supposedly told Brown-Lewis what he had done over text. She allegedly deleted these messages, and gave "false, incomplete, and misleading" statements to authorities.
Brown-Lewis has pleaded not guilty to the charges of obstruction, and is set to appear in court on July 19. McCullum's court date has yet to be scheduled.
Plaskett is currently serving the first year of her third term as the Virgin Islands' delegate to the House of Representatives. She won reelection in August 2016, with nearly 98 percent of the vote.