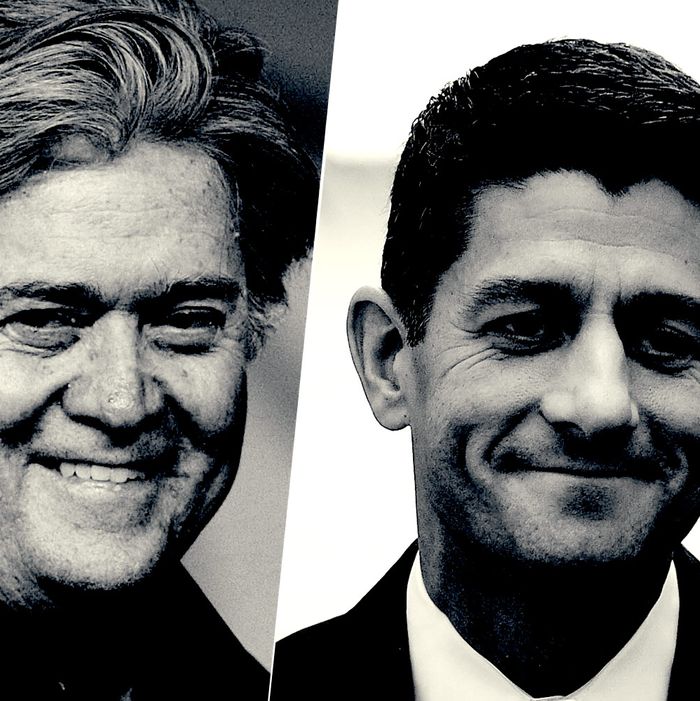 Steve Bannon, Paul Ryan.
Photo: Getty Images
Let us preface this by saying that Breitbart founder and White House chief strategist Steve Bannon is an absolutely despicable human being in every way. But even a broken clock is right twice a day, especially when that clock is brutally making fun of Paul Ryan.
Bannon's alleged insults come via Joshua Green's new book, Devil's Bargain: Steve Bannon, Donald Trump, and the Storming of the Presidency, which you can read an excerpt of here. It features several insane stories — many of which are detailed in this Talking Points Memo piece — about Trump's path to the White House, including Trump allegedly dropping Chris Christie because of cell-phone germs and once yelling at Paul Manafort for treating him like "a fucking baby."
And then there was Bannon's fear that Ryan might somehow become the party nominee during the Republican National Convention, which led him to reportedly go on a tirade about the House speaker in the Breitbart headquarters:
He described the House speaker as "a limp-dick motherfucker who was born in a petri dish at the Heritage Foundation."
Ryan has not commented publicly, though he is presumably off alone somewhere, chugging protein shake after protein shake.