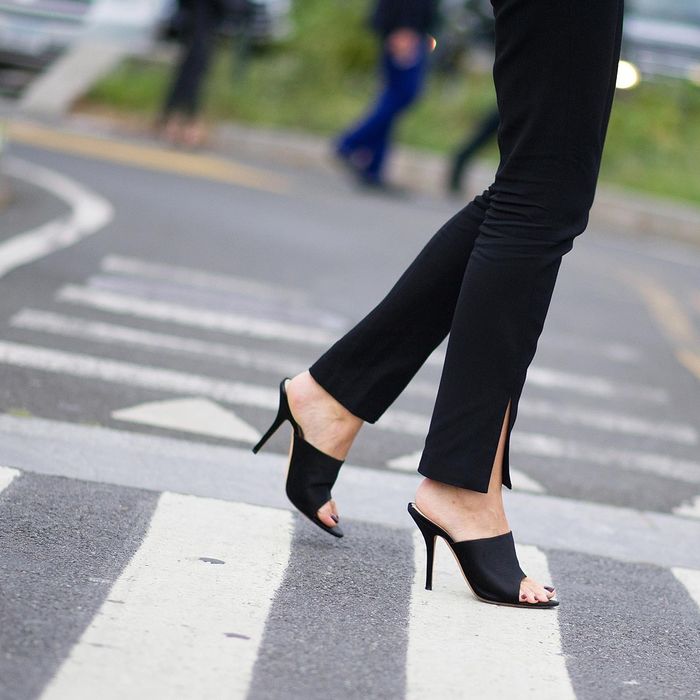 Photo: Gianvito Rossi Mules
Once in a while, a trend appears on the runway, trickles down to your local mall, and then lodges itself firmly inside your brain. Now Trending is our weekly roundup of where to buy that look that's been haunting you.
Remember when shoes had backs? And fastened securely to your feet? These days, mules are everywhere, from H&M to the sidewalks outside Paris's Couture shows. Some people find them difficult to walk in — pick a pair with a low heel if this is the case for you — but nearly everyone agrees they look chic, even if you're just wearing them with jeans and a T-shirt. Scroll ahead to shop our favorites, from a $35 pair at Zara to bright fuchsia-pink ones straight from the Balenciaga runway.
Yes, these are Manolo Blahnik knockoffs, but they're only $50.
These give off very Clueless vibes. Wear them in a '90s-inspired way with denim or a colorful shirtdress.
These are your best bet if you're looking for simple black heels. The upper suede portion covers most of the front of your feet, making them easier to walk in.
For $35, you can try out the trend with these flashy silver mules.
These have a vintage-inspired pointed toe, but the metallic color makes them feel modern. Pair them with a black dress that needs some oomph.
True, these are expensive, but you have to admit the lagoon-blue hue is stunning, as is the retro silhouette. Imagine wearing them with an all-white outfit and you'll be able to justify the price.
They're satin. They're fuchsia. They're so beautiful I can't stop staring at them. And that bow? Bows can be so insipid, but this one is the coolest thing I've ever seen.
If you buy something through our links, New York may earn an affiliate commission.