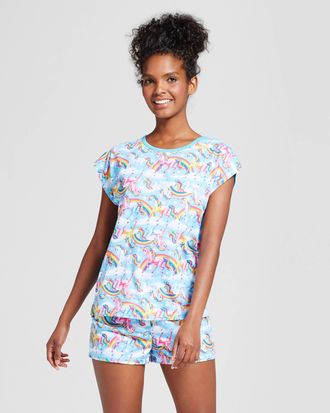 Lisa Frank pajamas.
Photo: Courtesy of Target
Constantly being surrounded by infantilizing rainbow food and unicorn everything can make you feel nostalgic for the days of your youth. Luckily, there's a new way to relive the glory of fourth grade that doesn't involve ingesting a bizarre drink from Starbucks, as Lisa Frank recently teamed up with Target for a capsule pajama collection.
As Elle reports, the collection is largely composed of oversized sleep shirts and sets of matching T-shirts and shorts, each of which feature Lisa Frank prints. Elle points out that the prints range from OG animal styles (dolphins, unicorns, and tigers, you know the drill) to more "subtle" Lisa Frank prints, even though we're sure "subtle" Lisa Frank prints do not exist.
The pajamas, which are already available for purchase online, are perfect for the woman hoping to recapture the effortless elegance she emitted in her elementary-school years. Pair them with sparkly unicorn makeup for a chic toddler-esque touch.