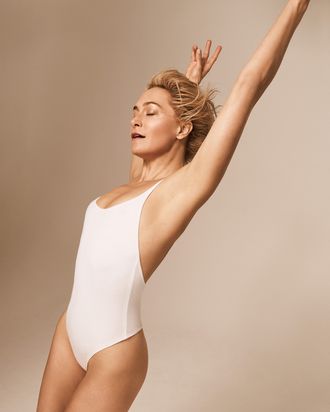 Taryn Toomey for Lululemon.
Photo: Courtesy of Lululemon
You may scream for ice cream, but fans of Taryn Toomey's cult workout class scream because that's what people do in her class. The fitness-program founder, who opened up her first crystal-bedecked Tribeca studio this year where Christy Turlington and Jennifer Aniston openly yell and pound their chests within airy, white walls, also just launched her first collaboration with Lululemon. Toomey once said that she personally favors "things that doesn't look like fitness," and her collection features halters, camisoles, sports bras, and leggings in a subdued palette of earthy tones. True to Toomey's cardio-meets-yoga ideology, several garments are deemed part of the Awakenings or Heart Opener collection, including a Meditation Cloak, a large shawl that looks like a Savasana of a cardigan. Since going on sale yesterday, multiple pieces of the collection have already sold out. See more of the pieces available and engineered for cathartic shouting and sweating below.
Photo: Courtesy of Lululemon
Photo: Courtesy of Lululemon
Photo: Courtesy of Lululemon
If you buy something through our links, New York may earn an affiliate commission.