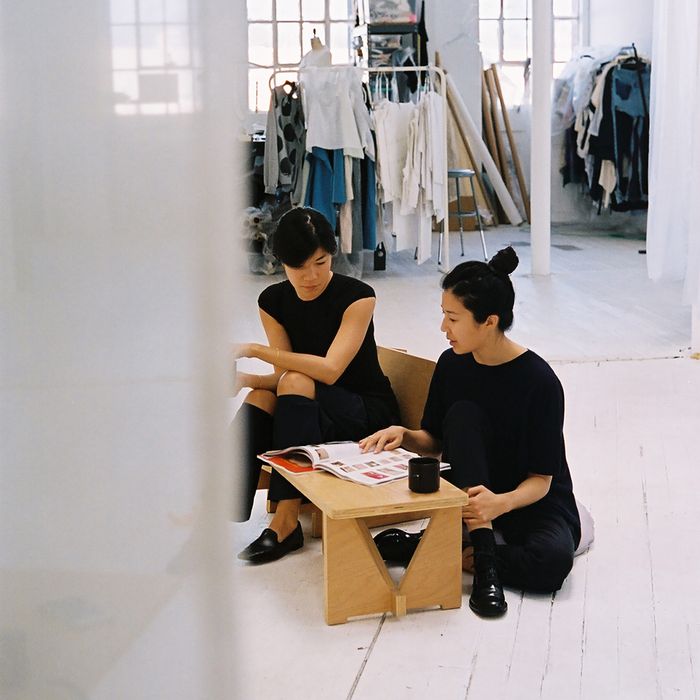 Kimberly and Nancy Wu.
Photo: Nastassia Brückin
In Tastemakers, fashionable people reveal how they live. Because tastes change, but good taste is eternal.
Six years ago, Southern California–born sisters Kimberly and Nancy Wu were living across the world from each other, though they were in the same place professionally. Kim was a concept car designer at Honda in Tokyo, Nancy was a footwear designer at Nike in Portland, and both longed for a larger creative outlet. "After work I would experiment a lot with bags and making things that were personally missing from my life," Kim remembers. She and Nancy Skyped daily, and with each call, they became increasingly excited about what said experimentation could become.
In 2011, the sisters launched Building Block, a line of mostly black handbags in geometric forms like cylinders and squares. They were an immediate hit with both artier fashion people and more fashionable artists, so later that year, the siblings reunited in Los Angeles to work side by side. In 2014 they opened their first store, shared with local concept space Iko Iko, and last year, they expanded into a new flagship in Los Angeles's Chinatown. Now, Building Block is sold by 60 retailers, including Net-a-Porter, where they recently launched a capsule collection of three exclusive styles.
About that name: It goes beyond simple geometry. "The idea of Building Block is starting from scratch, rebuilding from parts and pieces," Nancy explains. "Kim and I were both working corporate jobs and we were feeling very overwhelmed with not having a personal sense of style or identity. We sort of abandoned that life and started anew; a lot of our bags are really minimal so it's sort of like a lifestyle."
Below, the sisters spoke to the Cut about guilty pleasures, their unique ways of saying "thank you," and a few of their favorite things. Read on for a snapshot of their personal tastes.
How do you thank someone for a gift?
Kim: I cook them a meal. When it's winter I like making a stew or a Chinese hot pot. And then in the summer or spring it's usually pasta or a cold noodle.
Color or no color on your nails?
Nancy: No color. Buffing.
Kim: No color. No buffing. Not even that.
Heels or flats?
Nancy: Flats. I have these Christophe Lemaire loafers that are really basic, black, and kind of masculine.
Kim: I also prefer flats. I think my highest heel is like two-and-a-half inches. I have three pairs of black ballet flats. My favorite ones are Céline and are maybe six years old. They're pushing vintage.
What would you never wear? 
Kim: Anything with rhinestones.
Nancy: I would never wear a little dog.
What is a trend that you like right now?
Kim: Is it a trend right now to not be on your phone? Because I want to get on that trend.
Nancy: I actually like the trend of people moving to L.A. I'm seeing a lot of new energy here and I can feel it.
What's your favorite song on your playlist right now?
Nancy: "Phone Down" by Erykah Badu. It's about putting your phone down and paying attention.
Kim: "The Homeless Wanderer," which is by this Ethiopian nun named Emahoy Tsegué-Maryam Guèbrou.
If you were a car, what kind of car would you be?
Nancy: I would be the two cars that I own. A 2004 black Toyota Tacoma, single cab. And then a 1981 Mercedes station wagon. Two distinct personalities.
Do you prefer the no-makeup makeup look or do you actually wear no makeup?
Kim: I pluck my eyebrows once a month and then put on lipstick and that's it. I've been doing this thing where I run a brownish-red NARS shade, Jane, across my lips and then rub it in.
What's one way your taste has changed since you were a teen and one way it's stayed the same?
Nancy: I think I'm more comfortable with what style can mean. It can show different facets of your personality — you can be like a 12-year-old boy but then be like a woman at the same time.
Kim: I'm completely different. I think I experimented a lot more when I was younger; I was really into neon yellow for a while. Now I feel most comfortable having a uniform of oversized clothes. It feels good to be comfortable physically and not have to think about how this shirt makes me look.
What are your favorite accounts to follow on Instagram?
Kim: I follow this furniture gallery in France, @a1043_didier_jean_anicet. I like the exhibitions that they put on. I think it's good form inspiration for Building Block.
Nancy: I'm obsessed with this one, it's called @core77, and it's just process videos, as in how to make perfect wood joints fit together or how to lathe aluminum or how to coat chocolate. They're really satisfying.
What's your guilty pleasure?
Kim: Sometimes on a lazy night we'll watch Chopped.
Nancy: I tweeze my leg hairs and it's very satisfying. I've done it for so long that I hardly have any hair left on my legs.
What's your favorite pair of jeans?
Nancy: I have Eckhaus Latta jeans. They had these vintage-inspired back pockets that are really cool. They're called the El Jean.
What about your favorite T-shirt?
Nancy: My favorite T-shirt is a shirt my friend Camille made; her project is called ElsewhereElsewhere. She took inspiration from old '80s Toyotas with really special colorways. It's a tan shirt with a yellow silkscreen of the Toyota logo.
Kim: I think my favorite is a Japanese cotton T-shirt from Rowena Sartin. It's really soft and really big.
What do you sleep in?
Nancy: That same Toyota T-shirt and underwear. Is that really inappropriate?
Kim: My boyfriend's old T-shirt.
What's your favorite chocolate?
Nancy: We have the same favorite chocolate: Ritter Sport cornflake.
Favorite perfume?
Kim: Comme des Garcons, Wonderwood. I think it smells like 2013, which was a good year.
Nancy: Comme des Garcons Kyoto. It smells like a humid Japanese forest.
Favorite sheets?
Kim: Matteo. I sleep on all-white sheets. I have two beige animals and they shed a lot, so I can't have any dark linens. I have a 17-year-old British short-haired cat. He's a little runt, he's very special. He's like a noncolor; he looks like a little piece of fried chicken. Then I also have a three-year-old mutt named Sunny.
Favorite lip balm?
Nancy: Vaseline. Basically we sleep in old T-shirts and use Vaseline for lip balm.
Photo: ©2009NicholasJReid
If you buy something through our links, New York may earn an affiliate commission.