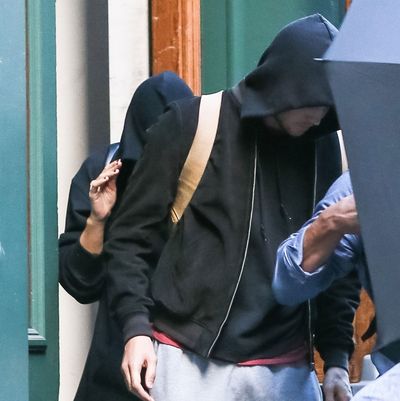 Look at how happy they are!
Photo: AGNY, TYJA/BACKGRID
Taylor Swift, the endlessly relatable, five-foot-ten, multimillionaire girl-next-door, has been flying under the radar in recent months, so much so that I found myself wondering if she were still alive, or if she had finally self-actualized into a crisp, monogrammed thank-you card. But according to E! News, not only is Taylor Swift still occupying her human form, she's still dating Joe Alwyn, and the "happy couple" is "doing great."
The couple was recently seen wearing matching black hoodies, and doing their best to avoid the paparazzi, a marked departure from some of Swift's previous, highly publicized relationships with British men. According to a number of "insiders," this is no accident:
"She got buried in media being on top of her life during the last relationship, so she tried everything in her power to not have that happen again. She worked very closely with her security team and management to make sure her life going forward was private. She doesn't want the photos, the hysteria, the speculation. When she's ready, she'll talk about it. Don't expect this to play out like her other relationships."
See, this one's different, okay? No shoe-clad strolls on the beach, or "I <3 TS" tanks for Joe.
Sources also say the two have met each other's families, who "love" them together, and that Swift "is in a happy place, even though she seems like she is hiding."