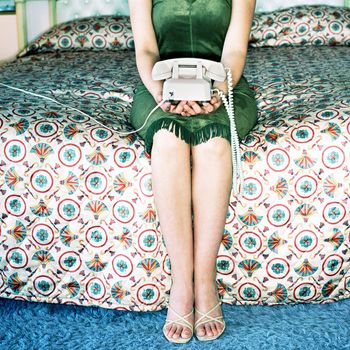 Last week, Tele Pay USA, a national phone-sex provider, was hit with a collective-action lawsuit alleging it failed to adequately compensate its contract workers. The suit, filed by lead plaintiff Anne Cannon, alleges the company cheated phone-sex actors and actresses out of their earnings and benefits and violated the Fair Labor Standards Act by paying them as little as $4.20/ hour (while the company, which charges callers around $5 per minute, takes about $300/ hour). The federal court has yet to certify the case, but if it does, Tele Pay's other phone "actors and actresses" will have the opportunity to join Cannon's suit. Tele Pay declined to comment for this story.
Cannon has worked for Tele Pay for nine years, and takes at least ten calls a day from her home, where she lives with her fiancé. She was inspired to take action against the company and fight for better wages after learning about workers' rights while volunteering for Bernie Sanders's campaign. "I was like, what am I doing? Bernie wouldn't approve of this! I shouldn't approve of this either! And that got me to say I need to get a lawyer, I need to look into this," she told the Cut.
Since Cannon's suit offers such a rare glimpse into the lives of phone-sex operators, we asked her to take us through a day in hers. Here she reveals what's really going on on the other end of a sex line — from what she does during calls to why women are the worst customers.
I've been a phone-sex operator since 2008 and I have never met anyone I work with, not even my boss.
I got a degree for a "regular" career, but when my car died I realized if I was going to pay my bills I had to find work I could do from home. My family had no money and public transport was abysmal. I saw an advertisement online. All you had to do was leave a message and based on how your voice sounds you got hired. If you're creative and have the gift of gab, you'll be good at this job.
I work at a desk from home and I have a headset that's plugged into a landline (we can't use cell phones) and that costs me about $50 each month. I have my computer on so I can reference any fetish I've never heard of.
The calls aren't back-to-back, so I might do some housework or get coffee while I am waiting but I need to be in a room where I can shut the door for complete concentration. I have painted my nails during a call but most of the time I draw pictures or do some coloring. It relaxes me.
Sometimes it's hard to hear the caller, either because they're hiding somewhere or they're calling from far away, I've had callers from England and from Africa. I'd estimate that 50 percent of our callers are Canadian. They tend to be quality callers —less perverted than Americans. For the most part they have manners. I think they just want a girlfriend. One guy wanted me to meet him on the corner, he thought I was a local single. If they find out I'm in the USA, though, they will usually hang up.
When you take a call you never know what you will get: You could go to Candyland or you could go to Crackville.
When I get a call, the phone rings and a voice prompt (a "whisper message") tells me what the caller wants. You name the fetish, I've heard it. I often have to Google them. This one guy wanted me to crush him like a bug. He was like, "I'm a wittle wittle person, I want you to sit on me." I once told a guy I was 300 pounds, that wasn't fat enough for him so he hung up on me. I mean, seriously? Come on.
Sometimes I'll laugh so hard that I have to hit mute. One of the most common fantasies is transexual. They'll ask, "How big is your D?" If my fiancé is anywhere within earshot he'll grab a banana out of the fruit basket and hold it next to his body to try to get me to crack up. He doesn't shame me for doing this kind of work — he's very open-minded.
Occasionally I get calls from females, but usually those calls don't last very long because they're like, "Oh, my husband put me up to this." Ironically the calls from women are the worst. I can't keep them on the phone to save my life and they are very pushy. They go straight into phone sex like, "If you were with me now, what would you do?" And I'm like, "What do you look like?" Click. I lose them.
A lot of guys say they're going through a divorce or they're in a loveless relationship. Many just want conversation — marriage proposals are common. Last week I talked to a farmer from Oklahoma about his childhood on the farm. There was nothing explicit about it at all.
Often I am on speakerphone at what sounds like a frat party, or I get prank calls. Boys will giggle and say things like, "I'm really horny." I can't believe kids are saying things like that. So I'll pretend like I didn't hear it and I'm like, "Hey, it's a nice day outside, the sun is shining, is it raining where you are?"
For every hour I'm logged in, I only get about 20 to 30 minutes worth of talk time, and I only get paid when I'm talking. Sometimes I can go for three to four hours between calls. You have no control over the pace. Sometimes they'll say, "The line's going to be busy, girls, so try to take more calls!" And they'll do contests, like the top three girls with the highest call-time average are going to get $50.
Training calls are always offered, but they are optional, and you don't get paid. And they're usually just a guy trying to give us tips about how to keep men on the line. Like: Don't ever answer the phone and say "Hi," use pet names, like "Hey baby" or "Hey daddy." Guys really like that. Never say you're wearing a negligee or a bathrobe because that's not believable. Instead? "Oh, I'm kicking back in my sweats and I've got a little tank top on."
Sometimes the training is kind of explicit. The trainer will say things like: "If a guy tells you, 'I have a big C-O-C-K,' ask him about that, like, 'Oh my god, is it so big it hurts?' Do whatever you can to make the conversation last longer." So I'm getting training with a guy using dirty words telling me how to talk to guys. It's uncomfortable.
I used to disguise my voice but if I do a Barbie voice all day long, it strains my vocal chords, so I've stopped. But sometime in the back of my mind I'm like, Is someone recording these calls and putting them on YouTube?
If a caller is talking about something that you're not comfortable with, you can say, "Hey, can we talk about something else?" but we're not supposed to hang up ever and it will mess up your average, anyway. I've had bad things happen to me in the past. Yesterday a caller was like: "My stepdaughter's in the room and guess what I'm doing."
My fiancé, close friends, and family know what I do. I've told acquaintances and they say things like, "Well, I guess that's better than being a prostitute." I don't think they're trying to insult me, I think that's just what they think of the people who do these sort of things. And that couldn't be further from the truth. I have social anxiety, I'm afraid to talk to people face-to-face. Going on a date with somebody? I think I would be horrified. If there's a phone separating me from somebody, I'm okay, but take that phone away, I'm not very good at talking.
I've read studies on how virtual workers are not really seen as full-fledged employees because their bosses can't tap them on their shoulder, they can't see them face-to-face and see how they feel, who they are. Because you're just a girl on the phone, you know? Like you're not a real person. You're the girl on the phone.