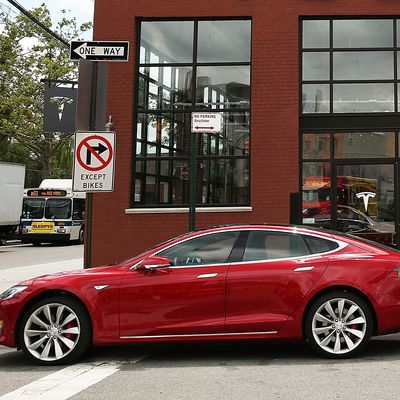 Tesla.
Photo: Spencer Platt/Getty Images
In early June, a female engineer at Tesla was fired from the company after she sued based on claims of "pervasive harassment" that she says she endured in her four years working there. AJ Vandermeyden's attorney said that the firing was "clear retaliation" for her client's bringing to light the gender-discrimination claims. Now, more details on how Elon Musk's car company allegedly treats women have been revealed.
The Guardian obtained emails that detailed an invite for an essential oils workshop on International Women's Day, sent to a Women in Tesla group: "A 'health and wellness group' at the electric car company invited female staff members to an 8 March 'lunch 'n learn' about oils and how they can help improve people's 'health and happiness,'" the Guardian reports. The event allegedly received pushback from staffers. A town hall on diversity was organized by the Women in Tesla group around the same time period, and according to reports, the meeting included six male execs and only one woman. From the Guardian:
Musk was not at the meeting, which was attended by roughly 70-100 people, and featured comments from more than 20 women, according to Vandermeyden and another attendee. One woman described parts of the factory as a "predator zone" for harassment. When the moderator asked women in the room if they had ever been catcalled, a significant number of women raised their hands, according to Vandermeyden.




Other women allegedly talked about feeling unsafe around male managers and facing sexist remarks from superiors. Women talked about being dismissed and talked over in meetings with no other female employees, and asked questions about diversity in hiring and the lack of women in leadership positions.
Tesla disputed how women characterized the town hall in conversations with the Guardian. "Employees stood up to ask the executives questions, share their experiences at Tesla — both positive and negative — while others spoke of things that they believed Tesla was doing right and some came with suggestions," a spokesperson wrote. The company also said it hired an independent investigator to look into Vandermeyden's claims in February who found they had not been substantiated. "We have a no tolerance policy and have made changes to leadership, policy and training to continue to improve our work environment," a spokesperson added in an email to the Cut.
Two days following Vandermeyden's firing, the Guardian reports, Elon Musk wrote a companywide email (sent at 2:29 a.m.), saying, "If you are part of a less represented group, you don't get a free pass on being a jerk yourself."