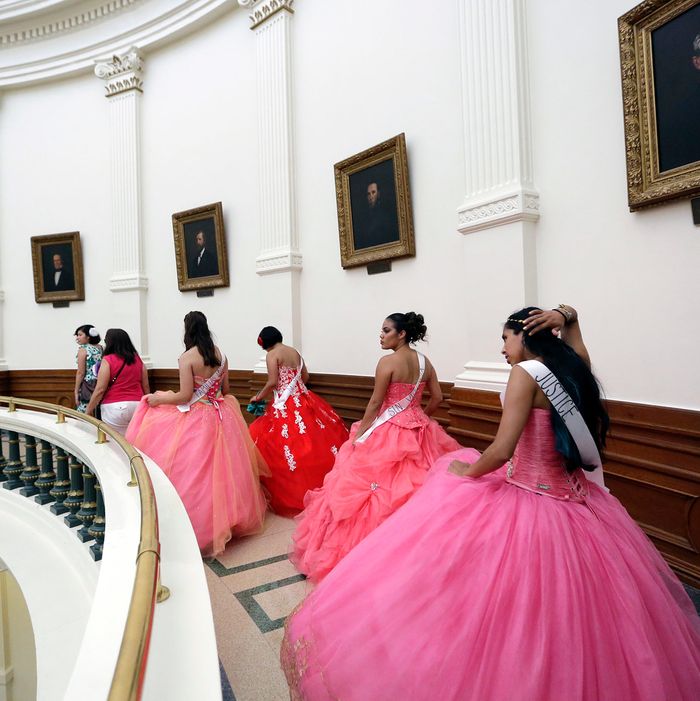 Young women visit the Texas Capitol to protest SB4.
Photo: The Associated Press
Quinceañera dresses are hard to ignore — and so were the teen girls who arrived on the steps of the Texas Capitol building wearing peach, mint, and red gowns.
In order to protest Texas's ban on sanctuary cities, 15 teenage girl showed up in quinceañera dresses accessorized with sashes saying "No ban," "United families," and "No SB4." After dancing ceremonial waltzes on the Capitol steps (including one to Hamilton's "Immigrants, We Get the Job Done"), they went inside, where they planned to go to Governor Greg Abbott's office.
Texas Senate Bill 4 goes into effect on September 1, although Democratic legislators are working to defeat the sanctuary-cities ban. It would allow law-enforcement officers to ask for proof of legal residency during any legal detention, even a traffic stop.
Per NPR, one of the protestors, Magdalena Juarez said, "SB4 is not only an attack on immigrant communities; it threatens the lives of all people of color."
Juarez also told the Dallas Morning News, "In Latino culture, quinceañeras are an important tradition to bring families together to unite communities, to unite culture. Today we do that to protest [Senate Bill 4]."