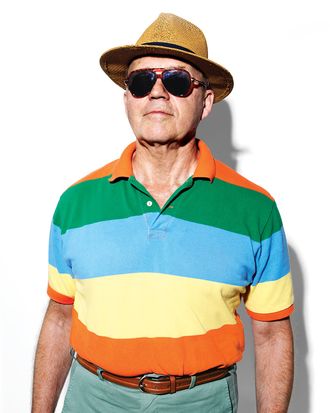 "The lights go out, a shot rings out, the lights come on again, and I'm sitting in a chair with blood coming out of my chest."
Photo: Bobby Doherty
Edward Lipinski, Actor, Writer, Illustrator
You're a real renaissance man.
Well, I used to be an art director and an illustrator, but then the publishing industry died. So I took acting lessons at the American Globe Theatre, got a few head shots, answered an ad in Backstage for a murder-mystery company, and I've been with them now for 18 years.
A murder-mystery company?
We do a dinner-theater show on Saturday nights at Arno's restaurant, where the audience has to guess who the killer is. It's about a mob boss, and I play a city councilman. The lights go out, a shot rings out, the lights come on again, and I'm sitting in a chair with blood coming out of my chest. The nice thing is I die in the first act and then I get to go home and I get paid for it. The worst part is that I have to wash the blood off and change shirts. One time I forgot and rode the subway with a bloody shirt on. No one noticed until I got off at Grand Army Plaza and some guy looked at me and said, "Are you all right?" I said, "I'm fine, I just got shot, don't worry about it."
Lightning Round
Neighborhood: Park Slope.
Polo shirt: "I think I got it at Penney's."
Hobbies: "I volunteer as a fossil explainer on the fourth floor at the Natural History museum, and I play chess and take French lessons once a week. I used to be a competitive ballroom dancer."
Favorite restaurant: "I love getting lunch at Sarabeth's in Lord & Taylor." 
*This article appears in the July 24, 2017, issue of New York Magazine.