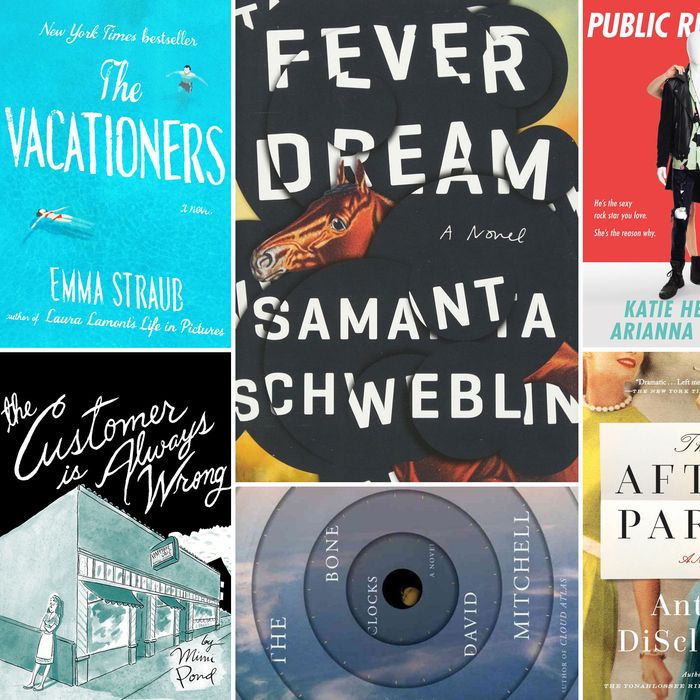 The Cut's July book club.
This month, we're diving into scary stories, historical fiction, music biographies, beach reads, and everything in between. Check out all the books we've recommended so far here.
I've been listening to a lot of Warren Zevon lately — the times call for it — and I realized I'd never gotten around to reading his biography. It's a thrillingly comprehensive and lively oral history, often grim and disturbing, often laugh-out-loud funny. Anyway, I'm your dad now. – Gabriella Paiella, Senior Writer
Have you ever fantasized about dating a handsome pop star? More specifically, fantasized about dating handsome pop star Harry Styles? Well, stage dive into Public Relations, a funny and sharp "(pop) prince falls for the (PR) pauper" tale for the 2017 fandom era. I raced through the second half of this book in one afternoon on my too-hot roof because I had to know how exactly a stressed-out 20-something woman working in the New York City media industry bagged a sparkly-boot-wearing, charming, famous hunk with the voice of an angel. Here, his name is Archie Fox, because Barry Myles might've been too obvious. – Marissa Cetin, Social Media Editor
Mead examines the big business of getting married — from Chinese gown factories to Caribbean honeymoon resorts — in all its lavish, faux-"traditional" absurdity, without losing sight of the human hopes and emotions it exploits. Irresistible reading for anyone who's found themselves within the gravitational field of a wedding. – Molly Fischer, Features Editor
If you've ever read a David Mitchell novel, you know that his stories aren't just stories — they're stories within stories within more stories. The Bone Clocks is one of his cleverest, spinning a narrative from six different points of view that revolves around one woman's life and (of course) encompasses an epic battle between good and evil. If you're a fan of books that are more like twisty surrealist puzzles, this is candy. – Claire Landsbaum, Staff Writer
Straub, a delightful writer and Brooklyn-bookstore owner, has written several great books, but The Vacationers is perhaps the beachiest read of the bunch. Centered on a family's vacation to Mallorca, it's got infidelity, complicated family dynamics, teens, jealousy, and just about everything else you could ask for in a relaxing summer book. – Lisa Ryan, Staff Writer
I've never been much of a graphic-novel person, mostly due to lack of exposure and not knowing where to start. If that sounds like you, too, The Customer Is Always Wrong is a great place to jump in. The book is the follow-up to Mimi Pond's first memoir, Over Easy, and it does something I didn't know graphic novels could do: it made me depressed, excited, nostalgic, and sentimental all at the same time. If stories of the Oakland restaurant business, drug deals gone wrong, and repeated failures to launch sound like your thing, don't be afraid of an unfamiliar medium. – Dayna Evans, Senior Writer
A beach read for people who don't actually want to stop thinking about work, Startup follows characters from various rungs of the tech-world hierarchy — a successful founder bro, an ambitious young reporter, a beleaguered Brooklyn mom working in social media — as they converge around a growing sexual-harassment scandal. Shafrir works at BuzzFeed, and her satire feels sharp and real. – Izzy Grinspan, Senior Editor
Is your real life feeling pretty bad this summer? I'm not usually one for historical fiction, but these times are driving me straight to whatever will provide the most distraction. Anton DiSclafani's second book is just that — a literary, sharp novel set in 1950s Houston society, with rich, dreamy descriptions and a searing narrator. If you want to spend even more time in a century where Trump was not president, then read DiSclafani's first book, the incredibly fun and dark The Yonahlossee Riding Camp for Girls. – Jen Gann, Parenting Editor
This short book took me back to reading Scary Stories to Tell in The Dark at camp and scaring myself so much I couldn't walk to the bathroom alone at night. Schweblin tells the story of Amanda, a woman on her deathbed in a clinic in rural Argentina. She's having a conversation with this incredibly creepy child, David, about how she wound up sick and nearly dead. It's part surreal ghost story and part political critique. As you meander toward an end, the questions pile up: What happened to David? What happened to Nina? What are the worms? Who is talking? What the hell did I just experience and why do I need a hug? It's a beautifully hallucinatory and dreadful experience. Enjoy! – Allison Davis, Senior Writer
If you buy something through our links, New York may earn an affiliate commission.