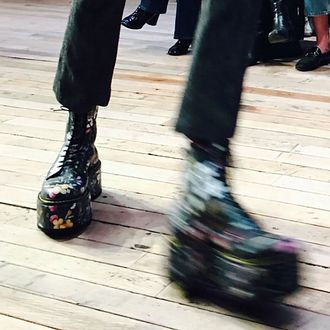 Some R13 boots to wear while stomping through the snow.
Photo: Stella Bugbee
The Cut's editors cover Fashion Week in real time across multiple channels: Not just this website, but on Instagram and Snapchat, too. Follow our accounts to get the inside view on everything that's going on, and check this daily compendium for highlights. Editorial director Stella Bugbee, style director Rebecca Ramsey, senior market editor Diana Tsui, senior beauty editor Kathleen Hou, senior fashion news editor Véronique Hyland, and more of the Cut's team will all be contributing to coverage.
DAY ONE
First thing's first: did you see our New York Spring Fashion issue? It's on stands now, and a great way to get a head start on many of the trends you'll be seeing on this season's runways. With Fashion Week off to a snowy start, our editors have been out and about around town capturing the best Boomerangs, photos, and videos to give you a look of what it's like live from the shows, presentations, and parties. Louis Vuitton's pre-fall re-see boasted tiny, perfect purses, and R13 Denim's floral boots made us want to stomp on flowers. Tommy, we missed you over here on the East Coast.