She was found by her roommate in the hallway of their split-level bungalow at 1911 Pinehurst Road in the Hollywood Hills at approximately 9 a.m. and pronounced dead by paramedics at 9:28, February 22, 2001.
Her body was faceup on the carpeting near the entrance to their bathroom, and when Jen opened the front door that morning and saw her from across the room, she at first thought it was some sort of practical joke. Ashley was known for her occasional put-ons and tricks, but as Jen got closer, it was impossible to miss all the blood.
It was trailing from Ashley's nose and mouth and matted in her hair. It had drenched the green terry-cloth robe she was wearing as well as the blue tank top that was stretched around her torso and the shorts that were bunched around her thighs.
It covered her arms, legs, and hands with a sickening sheen, nearly obscuring the bracelet tattoo she had around her left ankle. It had turned the carpet around her body a dark, angry red.
An external examination of the body revealed 47 stab wounds, 12 of which were later deemed fatal. Defense wounds were also observed on her right forearm and hands. Ashley's neck organs had suffered extensive trauma, and her windpipe and right artery had been cut in two.
Bloody shoe prints were noted in the house entryway. The official report from the deputy medical examiner wouldn't be filed for another two weeks, but the manner of death was obvious: homicide.
She was officially identified at approximately 11 p.m. via DOJ fingerprints as Ashley Ellerin, of Los Altos, California. An hour later, a local police sergeant was sent to notify her parents.
It took another five days for the news to reach me.
We sat around the kitchen table, my parents and I, with the paper between us. The story had made the front page of The Bernardsville News, below the pictures from the latest hospital benefit and an article on deer population control.
I read it while they stared at me. I was just under two months out of college; in a few weeks I'd turn 22, just as she had been when she was killed.
"Former Peapack Resident Murdered in Los Angeles," the headline read.
The article quoted a family friend — someone I had never heard of — who said Ashley had recently transferred from UCLA to the Fashion Institute of Design & Merchandising, and called her "an accomplished pianist and a talented artist."
I felt detached, numb. I wondered if my parents expected some sort of emotional display from me and how they'd handle it if I produced one, or if I didn't. Should I cry? Should I drop my head into my hands and wait for my mother to say something? Should I excuse myself ? Nothing seemed appropriate, so instead I stayed silent.
I wanted to tell my parents what I knew about Ashley, but I didn't know how. I wanted to tell them the things that would shock them, scare them, and cause them to shake their heads and go silent. I wanted to unburden myself and push them up against the limits of their parental aptitudes. But maybe it wasn't my place to share. They could find out from someone else, or maybe not at all, or perhaps there'd be another occasion to talk about it when things weren't so fresh.
I would wait this time. There were still a million questions yet to be answered. I knew I had secrets about Ashley I was quite certain she had told few others, but I still didn't know what had happened to my oldest friend at the end. So what did I really know, anyway?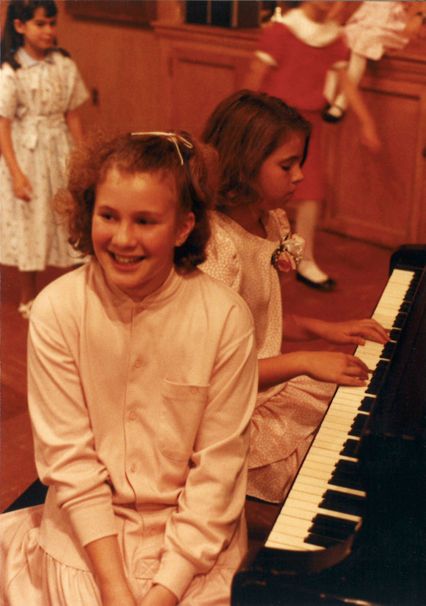 The first time we wore matching outfits, in elementary school, it was black stirrup pants, a plain white sweatshirt, red socks, and black sneakers, midway into the fall of fourth grade. We discussed it on the phone the night before, weighing the merits of all the different articles of clothing we had in common and what could be combined with what. It was exciting to show up for school the next day and watch our teachers and other kids make the connection, both of us beaming as heads moved from one of us to the other. We were displaying our link to each other for everyone to see, like wedding bands.
For our first piano recital, we chose dresses that were the lightest shade of pink. Mine was cotton and hers was silk, but when we sat side by side on the bench to play our duet from a book called The Pleasure of Your Company, the colors matched perfectly.
Later on, we graduated to just matching color palettes, not always actual clothes. For the first day of fifth grade — picture day — we agreed upon red and black. It felt like one of the most confident days of my life.
We spent time with other girls, occasionally, even trying it as a trio for part of our fifth grade year with a new girl named Jill. There were hangouts and a few adventures, but the triangle dynamic never quite took. Ashley and I couldn't help that we had more secrets, more sleepovers, and more affection between us to leave any substantial room for anyone else.
By 2004, I still had no idea who'd killed her, and it seemed as if no one else did, either. There had been no news reports and no word from her family, and no one from our town had any information. I would Google her name every month or so, and when I got access to LexisNexis through work, I looked her up there, too.
In the spring, something weird came up. Suddenly my searches about Ashley brought pages upon pages of celebrity gossip sites. They were in a variety of languages, German, Spanish, French — it was initially hard to make sense of what was the actual news and what was part of the internet's circular game of telephone.
I finally traced the story back to something originally reported by the celebrity weekly In Touch. In the piece, Ashley's family talked to the press for the first time since the murder, revealing anguish and frustration at the lack of movement in the case, and some of it was directed at Ashton Kutcher. Apparently Ashley and Ashton had had some sort of relationship, and they were even supposed to be going out on the night of her death.
Ashton wasn't nearly as famous in 2001, when Ashley died, as he is now, but still this news landed with a bit of reverb. I wasn't entirely shocked, however. I had seen Ashley's power over men firsthand in New York the last weekend we had spent together before she died, and I knew that her circle in L.A. had encompassed plenty of model /actor types. But that guy? How did they know each other? What had gone on between them? Did Ashton know her from her "secret life," or was it something more innocent?
The issue was a few weeks off the stands, but I managed to find a copy through a friend who worked in ad sales for the publisher. He left it for me in a manila envelope at the front desk of his office in midtown, like contraband.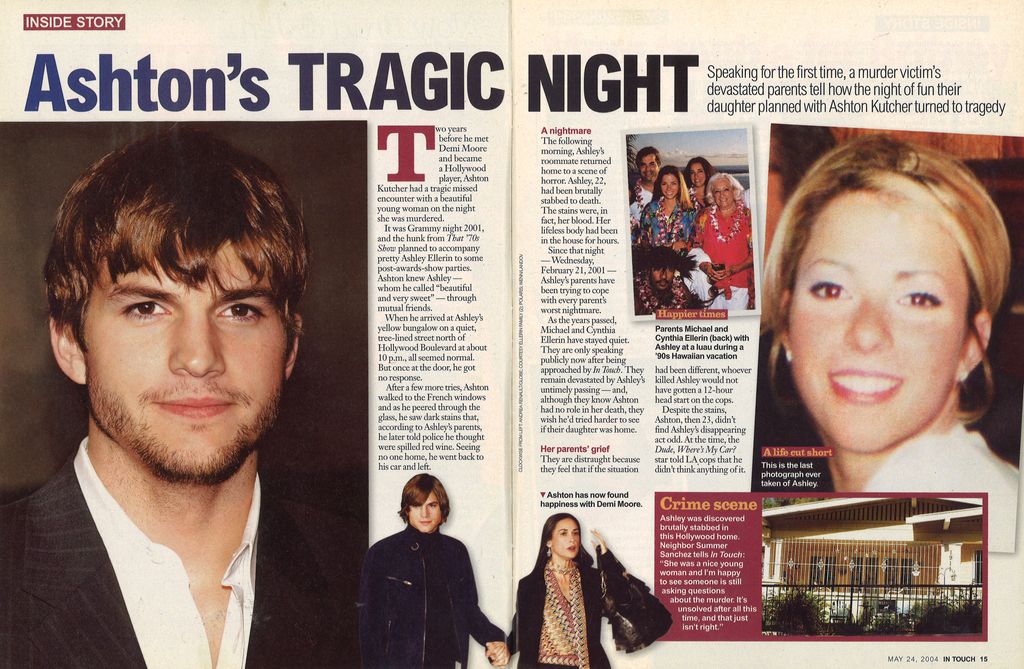 "Ashton Kutcher's TRAGIC NIGHT" read the cover line. Looking at it made me feel annoyed. Poor, poor, rich, gorgeous, living celebrity Ashton. Did any readers actually feel empathy for him? The story inside was a doozy. I learned that Ashley and Ashton had met through friends, and they were set to attend some Grammy Awards after-parties that night. Ashton had arrived at her house around 10 p.m. but had gotten no answer when he knocked on the door. He went around to the side of the house to try to look through the windows and saw red stains on the carpeting he apparently later told police he thought was spilled red wine. "She was a very special girl," the magazine said Ashton told a reporter at the time of her death.
There were two nearly full-page pictures of Ashton in the three-page story and three smaller ones of Ashley. There was one where Ashton had stubble and an unbuttoned collared shirt; the other was a cleaner-cut image where he wore a suit and smiled with teeth. "Ashton, pictured at a New York fashion show exactly one week before Ashley's brutal murder," read the caption. I imagined some preteen girl somewhere in middle America cutting out the pictures to tack them up on her bedroom wall, the border of the page with Ashley's face falling to the floor.
How odd to see Ashley reduced to a footnote to someone else's meteoric rise. She was not the story people cared about here; to this magazine's audience, she existed only in reference to Ashton, a sad blip on his bio, his "tragic missed encounter with a beautiful young woman on the night she was murdered." I hated it.
But then again, part of me understood; in my head things had taken on a similar refashioning: In my own search for answers, the story of Ashley had also become a story about me. I wasn't just letting her go quietly into the annals of my past. I wasn't just content to remember her and accept the things I couldn't change. I was digging. And grasping. But why?
We lost touch, as had happened with so many other people so many times before. How exactly had it happened? Gradually, then suddenly, but also in fits and starts, confusions and forgotten birthdays, faded memories and rituals. The scales tipping toward more important moments lived among other people in other places in other rooms far away from each other.
Ashley and her family had moved to California in 1993, during our sophomore year of high school. Her leaving didn't hit me as hard as it might have, since I myself had already left — for a girls' school in the next town and then for boarding school in New Hampshire.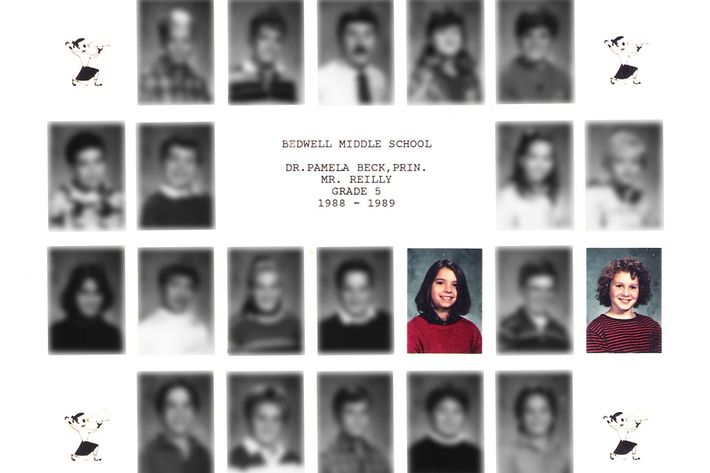 I had heard stories from our mutual friends back in New Jersey about what Ashley was up to, and they made me wary. Wait, she tried what drug? And, like, she felt okay about hooking up with a guy that much older? How did that even work? The physical distance, however, and the fact that I wasn't around to see any of it, compartmentalized things in my mind. That stuff might go on, I would think, but that wasn't the real Ashley. I couldn't quite picture or relate to what she was doing offstage, so it didn't quite feel relevant to me or to us.
As 9-year-olds Ashley and I had been an offbeat pair. We'd talked alike, dressed alike, and crafted our own hair accessories out of Koosh balls and Trivial Pursuit pieces. I might have gotten better grades, but the real dividing factors, the social signifiers — drugs, sex, male attention — were still years ahead of us. So were the other intangibles that amplify self-consciousness in girls, the little things that twist the way you look at a friend's choices — and really, they could hardly be called choices at that age — into a tacit judgment on your own.
In our last weekend together, the intangibles were front and center. Ashley had come to visit me at college in New York, and I put her up on my pull-out couch in my dingy railroad apartment. We hadn't seen each other in what must have been three years, that gap between the end of high school and the middle of college when most of my other teenage friendships had slowly become obsolete.
Taking stock of her after our long hug hello, I'd had to squint my eyes to register some point of recognition. Ashley was tan, toned, and feral. She wore leggings as pants and had glitter dusted across her temples and collarbones. She talked fast and unselfconsciously, moving through the crowd with a physical ease not unlike that of a dancer or a celebrity. Her apparent confidence, the on-ness she had about her, immediately made me feel almost tired in comparison.
On our walk from the subway across 110th Street toward my apartment, she told me that her part-time job at Sephora was just something she held on to so her parents would stay off her back. Actually, she was spending more of her time — and making a lot more money — at a strip club, working bachelor parties and pole dancing for tips; occasionally there were arrangements that happened in hotels, too. She relayed the information with the same casual remove she had used to give the waiter her order at lunch: The chopped chicken salad, no onions, honey-mustard dressing on the side.
You had to have a manicure and pedicure every week, she was saying, which was kind of a drag, but even a tiny chip in your nail polish could ruin the fantasy. She usually did light colors or French; once she had put baby blue on her toes and it hadn't gone over well. Tanning too — religiously. Men expected you to be a certain way, and attempting to work around that was more trouble than it was worth.
I tried to appear blasé, to take it in stride, but what I really felt was utter confusion. Was I angry at her? Was she telling me this to brag? Should I be wearing my concerned hat now, or would that be unfairly judgmental? I hadn't yet seen any comparable life developments in a friend and didn't know what it all meant, for either of us or the two of us. Maybe this was good, cool, right — To each her own? You go, girl? — and I was the one with a problem, a prude. Did everything make sense now, or did it all make even less sense than before?
We rounded the corner onto Amsterdam Avenue. Ashley's confessions were picking up speed — actors, crystal meth, the lease to her car being paid for by some guy in his 50s, how much she charged for an hour. She talked of martinis and pills and being on top during sex; the guys always told you they wanted you to go as slow as possible, but she still found ways to get through it quickly. It was almost as if she needed to get everything out before we entered my apartment, an unmasking in public so we could be on the same page in private.
Getting ready to go out that night, Ashley paced back and forth in my apartment from the bathroom to her suitcase splayed open on my bed. She wore nothing but a black thong. She looked outstanding. No one with that kind of body — aspirational, curvy, golden — had ever before been naked in my apartment, stalking the railroad hallway as if in some defiant erotic runway show. I tried not to stare, but I couldn't stop myself. What I felt looking at her: What happened, how did it happen, and can I have some too?
I wondered what she thought looking at me: curly hair, platform boots, nowhere near comfortable in my own skin. I sometimes stared into my closet — with its racks of cheap denim and cotton T-shirts — and wished for sequins and silk shorts, plus a whole new life and body to go with them. I wondered if Ashley saw her former self in me, the self before she'd woken up — before she'd gotten it. "It" could be so many different things, it seemed: sex appeal, mercenary pride, the way the world worked.
I took Ashley to Port Authority on her last day in town. She'd be catching a bus to her grandparents' in Pennsylvania, and after that — who knew? She was still next to me on the C train, but already I was taking stock of the aftermath: The girl I'd used to paint pictures and play piano duets with was now a stripper and an escort. I felt as though my self-esteem were at an all-time low. There was still glitter on my bathroom tile.
The train pulled into her stop. I stood up, and we hugged in the middle of the car, right before she slipped out of the closing doors.
I figured I would sort it out at some point: how I felt, what to do about it, where this would leave things with us. Soon I'd feel better about myself, back to normal, perhaps, or just different but okay. Then we could come together again and I'd marvel at how much stronger I'd feel around her. Ashley was Ashley and I was myself, and we could still maybe hang out and not have everything in common anymore and it wouldn't have to feel as if everything were falling apart. At some point, yes, that was how it would work.
The phone rang. I didn't pick it up on the first ring. Or the second. Or the third. Her voice came through on my answering machine while I was lying in bed in the middle of the afternoon. "Hey, sweetie! How are you? Oh my god, this actor flew me out to the set in Toronto, so I'm just on a layover on my way back." It was her voice, sounding warm and haughty at the same time. I looked out the window through the airshaft across to where my answering machine sat on the other side. I listened to her words come out, electronically processed, chirpy. There was a chance to answer … there was another one … I could get up now, and fling myself around the corner, and grab the phone. I could make it. I could pull it together. Or I could just call back … "Anyway, that's about it for me. Call me back!" All right, then. Never mind. I'd get her another time perhaps … maybe … I didn't know.
Eight months later she was dead and I was reading about it in the paper, trying to convince myself that it didn't matter to me as much as it did. I knew that I had just about let her go in the months leading up to things and it was impossible to know if we would have found our way back together. It would take me years to reconcile that one — complicated grief, I had heard it called. It was what happened when you hadn't cried — at least not yet — and you hadn't gotten depressed, but you still couldn't move on, either. "Why is my needle stuck in childhood?" asked Maurice Sendak. "I guess that's where my heart is." I felt something similar.
It was all the whys and hows that had gotten Ashley from age 9 to 22 that weighed on me, almost more than the loss. How had we ended up in such different places?
The loss itself left me numb, because part of me felt as if I had already lost her before she died. I had let her go or she had slipped away, off to a place where I couldn't join her: a place of body glitter and body shots, favors from men with agendas, Hollywood, strip clubs.
Maybe because she had seemed almost unrecognizable to me the last time we had been together, it was hard to understand exactly who I was mourning. Was it the girl I had jumped across rivers and rocks with while shouting a made-up language into the summer air? Or was it that tanned, jaded cipher, the not-quite-a-woman who navigated the world using male desire as a compass?
I wasn't an investigator or a lawyer or even Ashley's closest party partner at the time of her death, but I knew there was a lot more to learn about what had happened to my childhood best friend. And I knew that somehow, someday, I needed to learn it.
Adapted from the book The Hot One: A Memoir of Friendship, Sex, and Murder by Carolyn Murnick. Copyright © 2017 by Carolyn Murnick. Reprinted by permission of Simon & Schuster, Inc., New York, NY. All rights reserved.