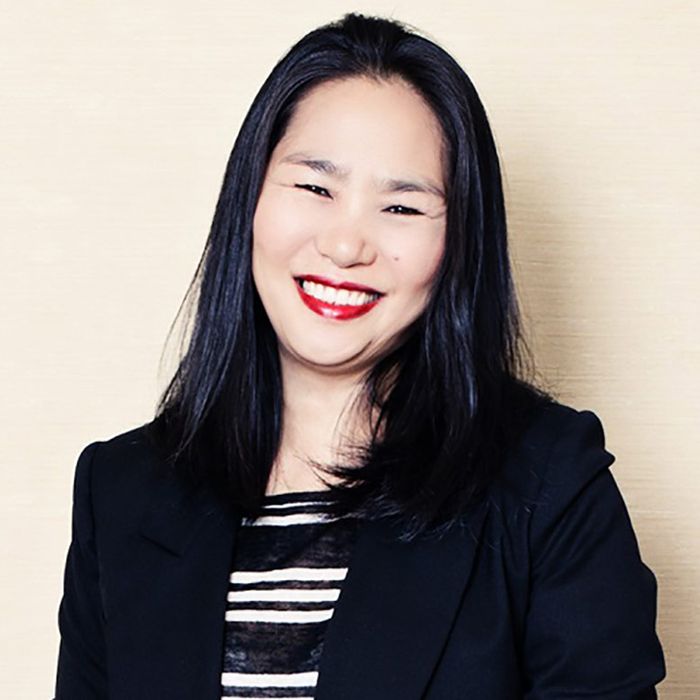 Jin Soon Choi.
Photo: JaeAn Lee
In Tastemakers, fashionable people reveal how they live. Because tastes change, but good taste is eternal.
"I didn't have many employment options when I came to New York City, so I took the path that many fellow Koreans took at the time and worked as a manicurist," explains nail artist and entrepreneur Jin Soon Choi. Now one of the most-sought after editorial manicurists in the fashion industry (she's a longtime collaborator of Steven Meisel, among others), Choi is the owner of four New York City nail salons and an eponymous line of nail polishes.
She came a long way to get here. Born in a small town in Korea, she moved to New York from Seoul in 1990 for a "big, dramatic change." Salon work agreed with her, as it offered an opportunity to talk to clients and practice her English. "Before that I worked one day at a Korean restaurant and two days at the Korean grocery, but out of three jobs this one was most appealing to me," Choi says, "because I could sit down and talk to my clients." Later, at a client's suggestion, she struck out on her own to do house calls, biking to client's houses with a pedicure foot soak in her backpack. "I was called 'Bicycle Jin,'" she remembers.
Eventually, though, Choi knew she wanted something more. "I went to Barnes & Noble with my notepad. I took every single fashion and beauty magazine out. I wrote each publisher's name and the publication addresses. I sent 50 letters. One person responded to me," Choi remembers. "Andrea Pomerantz Lustig at Cosmopolitan. She introduced me to an agency." While pioneering nail art on set for the likes of CoverGirl and Revlon, Choi also managed to open her first salon, an endeavor that brought her together with her now-husband, architect John Coughlan — and her success only snowballed from there.
After two accidents, Choi no longer rides a bike, but she's more famous than ever for her meticulous eye for detail and color, which run through all three aspects of her professional life. Below, Choi speaks with the Cut about meeting her husband while on the job, becoming a cat person, and not wearing nail polish.
How did you come to launch your own line?
As a manicurist, I have done everything. What's the last step, if somebody's ambitious? Your own namesake product. That was kind of the last step for me, to launch my own product in September of 2012. Working with Steven Meisel, I learned a lot and I was inspired by him to create [a] high-fashion-based nail-polish launch.
What's your office like?
Exposed brick with very high ceilings; kind of a quintessential New York–loft look. But I mostly work at home — also a loft — if I have to create something, because I like to be in a really comfortable atmosphere. I like to have my cats around me. I can relax with them and they entertain me. I was not a cat person, but my husband rescued three of them. What can I do? I became the mother of three cats.
What are you listening to on repeat?
I'm not into really trendy music. I'm more like rhythm and blues, like Dinah Washington. I love that kind of voice.
Who's your ideal dining companion?
My husband told me to say his name. We always make good dining companions. But I would also like to have dinner with Georgia O'Keeffe. I love her words. I like powerful strong women with an artistic background. I love her look — I could just look at her.
What career would you have in an alternate universe?
I actually always wanted to be a writer. I cannot be a writer in English, but my goal is to write a novel with my husband, because he's a really good writer.
What inspires you?
I'm a huge devotee of early modern art, and that's how I create all the nail polishes and nail art. I did nail art from Matisse, Ellsworth Kelly. We like to go to MoMA a lot and sometimes small galleries. I also like the Guggenheim.
What's your spirit animal?
Cat. I don't know how I became a cat person so quickly, but it's kind of fascinating to watch them, how they move. There's something elegant about cats.
What's on your reading list?
I want to read The Immortal Life of Henrietta Lacks by Rebecca Skloot. I'm intrigued by life stories.
What bag are you carrying right now and what's in it?
I love this tote bag from Madewell; my sister gave it to me as a gift. Inside I have my Prada wallet and a jump rope, because I like to do quick workouts on set. And I have glasses, Ahlem sunglasses, and a Korean face mask from Dr. Jart. I don't wear makeup but I bring one lipstick — NARS Audacious — and also, JINsoon Graffiti Nail Décor Stickers. Sometimes I like to give them to young people I meet. I also have JINsoon topcoat. I don't wear polish but I like bring topcoat to refresh — it just looks more groomed; Diptyque hand lotion; and cuticle oil.
If you buy something through our links, New York may earn an affiliate commission.