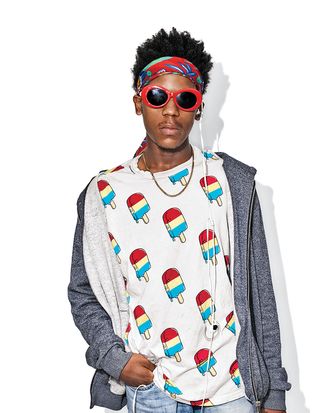 "People say my style is weird and I should go into modeling."
Photo: Bobby Doherty
Khalid Cuffee, Student
I love your Popsicles.
The shirt's from H&M. So are my pants. I get a lot of things there, but sometimes H&M doesn't have that extra push, you know? And it's a little too normal. I go to thrift stores in Soho, and I still have my days where I go to Strawberry or Conway, which is called Fallas now. I go to the one on 116th Street constantly. The thing is, I know how to make my clothes look more expensive than they are.
How?
You have to carry yourself well, and you gotta smile. People say my style is weird and I should go into modeling, but I don't like people telling me what to do.
So what do you want to do?
I want to be a model. But people shouldn't tell me what they think I should do!
Lightning Round
Age: 18.
Neighborhood: Harlem.
Social media of choice: Snapchat.
Favorite TV show: Steven Universe.
Summer plans: "Going to summer school, so I can graduate from high school early and get my life jump-started."
Favorite food: Chicken and pizza.
Morning routine: "Watching PIX11 and NY1 with my grandmother."
*This article appears in the July 10, 2017, issue of New York Magazine.