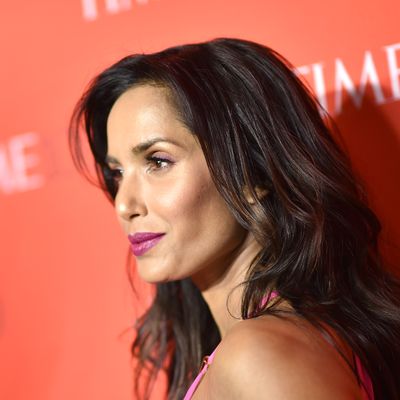 Padma Lakshmi.
Photo: Dimitrios Kambouris/Getty Images for Time
Jury selection has begun in what might go down as the most Boston trial of the century and/or the plot of Mark Wahlberg's next movie. Four Boston Teamsters are being charged with trying to extort no-show jobs from Bravo's Top Chef back in 2014, as well as threatening members of the show's crew, including host Padma Lakshmi.
According to prosecutors, the four defendants, Michael Ross, John Fidler, Robert Calarelli, and Daniel Redmond, were among the dozen or so members of Boston Teamsters Local 25 who set up a picket line on June 10, 2014, outside of the Steel & Rye restaurant in Milton, Massachusetts, where Top Chef was filming with nonunion drivers. When Lakshmi arrived on set, one of the men reportedly rushed her car and screamed: "We're going to bash that pretty face in, you f*cking whore."
Milton's Deputy Police Chief John King also told Deadline that: ""A group of them slashed the tires on 14 different cars owned by the crew."
Court papers say Lakshmi was "terrified," and Judge Douglas Woodlock told jurors she might be called to testify.
Last year, Mark Harrington, the Local 25's secretary-treasurer at the time of the incident, pleaded guilty to attempted extortion in exchange for six months of home confinement.
Opening arguments are expected to begin Tuesday in Boston, fueled, presumably, by a combination of Dunkin Donuts and repressed emotions.