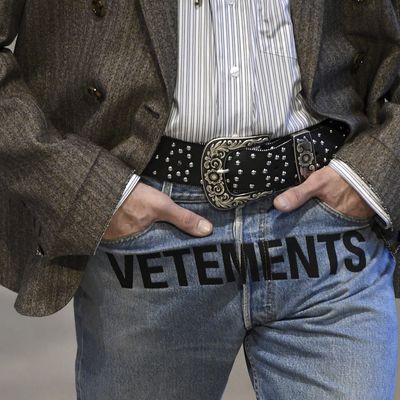 Vetements Spring/Summer 2017.
Photo: ALAIN JOCARD/AFP/Getty Images
There is an all-unisex Vetements x Tommy Hilfiger collection in the works for February. The ultra-cool Zurich-based brand (that always keeps the fashion world on its toes) has enlisted the all-American Tommy Hilfiger to roll out a collection of caps, sweaters, and hoodies.
Hilfiger announced the campaign on his Instagram this weekend, teasing, "So excited for our collab!" He also told WWD, "The fact that a disruptive designer like Demna [Gvasalia] would want to do something with our brand is a tremendous compliment."
WWD listed preliminary prices for several pieces, including an almost-$1,000 "double sleeve" hoodie. Some pieces will feature both the Vetements and Tommy Hilfiger logos.
The oversized raglan-sleeve hoodie will retail for $1,119.60, the double-sleeve hoodie for $971, socks will be $102.80, the cap will be $285.60 and the long-sleeve T-shirt is $719.70.
Fitting with both brands' aesthetics, the color range for the one-time collaboration is reportedly "gray heather, navy, red and fuchsia." Maybe they do have more in common than previously estimated.