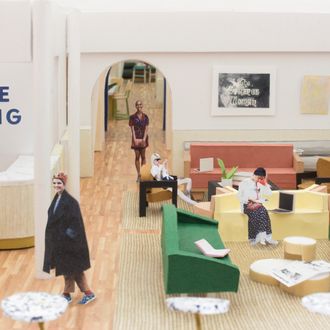 The Wing Soho.
Photo: Lorraine Nam
In April, the founders of The Wing, a women-only social club (described by its members as a "coven") in Manhattan, announced that they would be expanding their network to three new locations by the beginning of 2018. The first to open will be in Soho in mid-October, followed by a space in D.C., and then a space in Brooklyn early next year.
For the intensely curious — and for those who want to start planning their geo-tagged Instagrams in advance — The Wing's founders hired paper artist Lorraine Nam to make a preview rendering of what the newest location will look like. According to founder and CEO Audrey Gelman, The Wing Soho will offer an "open floor plan workspace, meeting rooms, phone booths, private alcoves, a café, a lending library of female authors, showers, lockers, beauty room, and a lactation room." There will also be private offices and a nap room in the 11,000-square foot space, which is located at 52 Mercer Street.
Last we heard from The Wing, the waitlist for membership was over 8,000 people long. (Members pay $2,250 a year for access to the co-working space, after-hours events, and beautifying — but not free coffee and beer, if that's a deal-breaker for you.) Still, membership is "curated" according to specific standards set by The Wing's membership team, so if you've been waiting in the … wings … to be initiated into the coven, Gelman says not to get discouraged by the length of the list. As she put it in April, admission to The Wing is determined by "racial and cultural diversity, career diversity, and diversity in the utilization of the space," so new applications are still welcome.
A new tier of membership will soon be made available, as well. With an All Access Membership, Wingleaders (Wingpins? Wingdings? Wingnuts?) will be able to use any of the four locations once each is open. Soon, you may never have to go home at all.