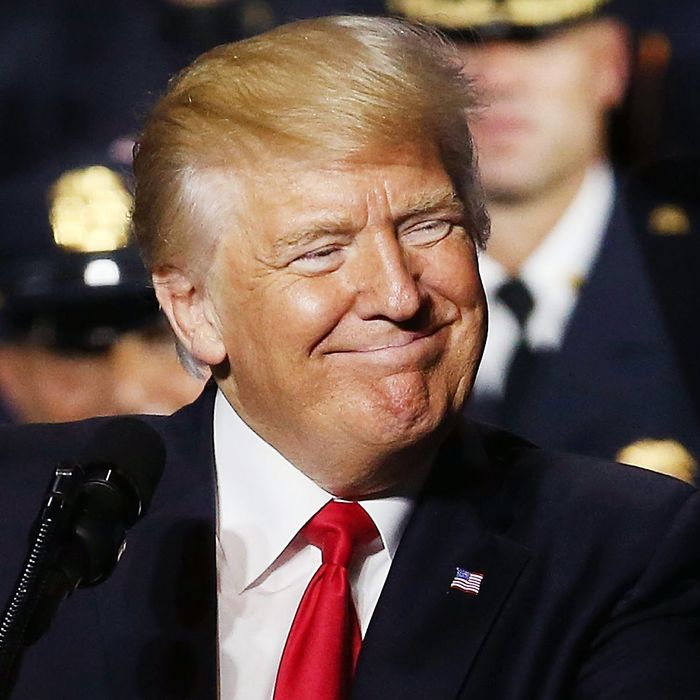 Donald Trump.
Photo: 2017 Getty Images
There are rich-person weddings, and then there are rich-person divorces. Rich-person weddings have soundtracks curated by Skrillex and $1 million dresses. Rich-person divorces — or at least, this one between a former Miami Dolphins cheerleader and a Palm Beach County state attorney — involve three-legged dogs named Ivanka and "short Democrat" as an insult.
A PR firm representing Lynn Aronberg has coined her separation from husband Dave Aronberg "the Trump Divorce." Lynn, a Republican, told the Washington Post her politics weren't "an issue at first" for her Democrat husband, "but that was before the Hillary-Trump saga. And as that built, the tension in our relationship built."
So there's that, right off the bat. But even better are the details peppered through the Post's story, including:
The three-legged dog named Ivanka. Lynn often took and posted selfies with Melania and Donald Trump, but she went one step further and named her dog after a member of the Trump clan.
While Lynn Aronberg has been a Trump fan since his days on The Apprentice — she owns a three-legged dog named Ivanka — she said her husband had known the mogul for years.
The Trump selfies. The Post reports Lynn's selfies with the First Family drew angry calls from Dave's supporters. Dave reportedly hid in (among?) the bushes at Trump's resort Mar-a-Lago to avoid cameras.
"I'm walking through the red carpet, and he's sneaking through the bushes," she said, recalling selfies she snapped with the future president and his wife, Melania Trump, while her husband would "run and hide from the photographers."




"He'd ask me to not to take pictures. He wouldn't want me to post them," she said.




"I did not listen to him."
The tabloid leaks. Gossip Extra, the leading source for Lynn/Dave news, would publish several leaks over the course of their relationship. But the best is this quote about inviting Melania to her book club.
So what if I like Ivanka Trump or a conservative issue on social media? So what if I invite Melania to be in my book group? Dave has been getting calls from supporters, like union people or far left types. One actually told hm to "keep your woman in line."




Excuse me? Keep your woman in line? I'm my own person. I've got a successful business. I've got my own opinion. I'm a lifelong Republican.
The insult "short democrat."
She described herself as a lifelong Republican and him as "a short Democrat" who nevertheless appealed to her.
The heart wants what it wants! At least until you go one Trump selfie too far.