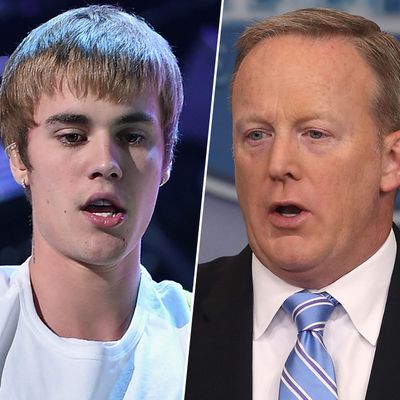 Justin Bieber, Sean Spicer, Steve Bannon.
Photo: Getty Images
Every week brings such an overwhelming onslaught of news, that sometimes the most entertaining bits can fall through the cracks. Here, we'll recap the pettiest squabbles, juiciest feuds, and other niche drama you didn't know you were living for.
Ann Coulter's Plane Meltdown
Even though it feels like approximately 15 years ago, it was just last weekend that conservative pundit Ann Coulter had a full-scale meltdown because she was bumped from her plane seat.
Notably, Coulter — who devotes much of her rhetoric to claiming people are too sensitive and entitled these days — claimed it cost her $10,000 worth of her time to select the plane seat in the first place.
Delta agreed to refund her $30, before telling her off politely.
The greatest accomplishment here is that, even in this day and age, Coulter managed to make the American people side with an airline company.

Steve Bannon Burned Paul Ryan
If you don't have anything nice to say about something, well, you're probably going to say it anyway and then it's going to come out in the future when you work with that person and it's going to be pretty awkward.
Such is the case of Steve Bannon, who reportedly issued a devastating burn about Paul Ryan back when he was worried that the House speaker was going to unexpectedly get the Republican nomination. According to Joshua Green's new book, Devil's Bargain: Steve Bannon, Donald Trump, and the Storming of the Presidency (you can read an excerpt of it here), Bannon once referred to Ryan as "a limp-dick motherfucker who was born in a petri dish at the Heritage Foundation."
So, uh, where's the lie?
China vs. Justin Bieber
Justin Bieber, who we are constantly surprised to learn is not still a teen, has been banned from the entire country of China. Why? The reason the Beijing Municipal Bureau of Culture gave was his "bad behavior," by which we believe they mean encouraging everyone to get the same terrible tattoo he has.
Vine Star vs. His Own Neighborhood
In a quiet enclave of West Hollywood, a war is brewing. On one side: the Vine star Jake Paul, his cohort of pranksters and the millennial fans who swarm to meet him; on the other, the families who are convinced Paul is going to burn down the neighborhood.
Paul is apparently paying $17,000 a month to rent the McMansion and use it as a set for his prank videos, which neighbors say has turned the area into a "living hell" and a "war zone." When KTLA attempted to interview Paul about his neighbor's complaints, they found it difficult to communicate with him, as he apparently speaks only in meme:
This summer, Paul was also accused of emotionally abusing his girlfriend, so he sounds like a fun guy all around.
Spicey Out
It's funny how someone can be in your life for only a short amount of time, but their presence is so memorable that you start to forget what it was like before you knew them. That is how we feel about Sean Spicer, the White House press secretary who lied and fumbled and garbled his English all the way into our hearts. On Friday morning Spicer resigned from his position after reportedly rejecting to Trump's plan to appoint Anthony Scaramucci as communications director, bringing the Spicer drama to an abrupt end. At least this should clear the path for him to become the spokesperson for Orbit.
The Usher Herpes Lawsuit
Did Usher pay a woman $1.1 million to settle a lawsuit in which she alleged he gave her herpes? The answer is:
The court docs, published by Radar Online, show the suit was settled in 2012 in California, where it's illegal to knowingly or recklessly transmit an STD. Really gives  "Burn" a whole new meaning.
Catch up on previous drama here.