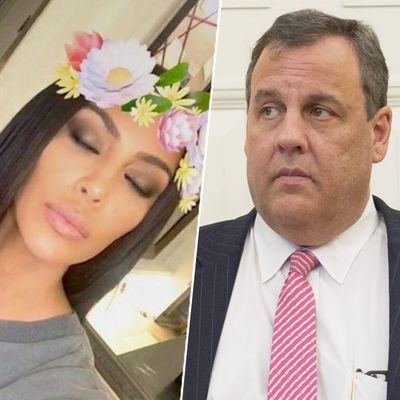 Donald Trump Jr., Kim Kardashian, Chris Christie.
Photo: Getty; Courtesy of Snapchat/KimKardashian; Getty
Every week brings such an overwhelming onslaught of news, that sometimes the most entertaining bits can fall through the cracks. Here, we'll recap the pettiest squabbles, juiciest feuds, and other niche drama you didn't know you were living for.
Chris Christie Got Fat-Shamed During a Radio Fight
New Jersey Governor Chris Christie has the honor of being included in This Week in Drama for two (2) weeks in a row now. Last week, it was because photos surfaced of him at the beach … specifically, the beach that had been closed to the rest of the public because of his government shutdown. But New Jersey residents' rightful anger carried over into this week.
On Monday, while Christie was filling in for Mike Francesa on WFAN, longtime regular caller "Mike from Montclair" dialed in to call him a "fat ass." More specifically: "Governor, next time you want to sit on a beach that's closed to the entire world except you, you put your fat ass in a car and go to one that's open to all your constituents."
Christie countered by calling him a "communist" and a "bum," making for a beautifully New Jersey fight all around.
Trump Administration Email-palooza
Two Trump-related scandals from this week prove once again that email is arguably the best medium for causing drama.
First, over the weekend, the New York Times reported that Donald Trump Jr. met with a Russian lawyer in June 2016 with the hopes of getting some dirt on Hillary Clinton. On Tuesday, right before the Times was about to publish the incriminating emails about that meeting, Trump Jr. went right ahead and tweeted them out himself. (Side note: The emails were exchanged with British music publicist Rob Goldstone, who has an absolutely bonkers social-media presence, thereby adding another ridiculous layer to the story.)
One writer, Jared Yates Sexton, seemed particularly dismayed that the eldest Trump son got ahead of the story, leading to a full-scale Twitter meltdown in which he claimed he was working hard on getting the scoop himself.
As Tom Ley pointed out over at Deadspin, that couldn't be further from the truth.
Then on Wednesday night, Trump's lawyer on the Russia case, Marc Kasowitz, sent some pretty insane emails himself. ProPublica published them the following day, revealing that he had responded to an anonymous stranger who urged him to resign with, "I'm on you now. You are fucking with me now Let's see who you are Watch your back, bitch," and "I already know where you live, I'm on you. You might as well call me. You will see me. I promise. Bro."

Bro.
Goop vs. Scientists
Over the years, Goop has recommended various dubious health practices, from walking around barefoot to cure depression to putting $60 rocks in your vagina to fancy "healing" stickers. And over the years, various people have called bullshit. On Thursday, Goop addressed such criticism with a post titled "A Word From Our Doctors," which explains, "While we have earned a reputation for often seeking the alternative, it would be a gross misunderstanding to believe that we reject Western medicine." They also included two letters from doctors they've worked with, one of whom directly called out gynecologist and frequent Goop critic Dr. Jen Gunter mostly, it seems, for using the "F-bomb."
Needless to say, scientists were not having it.
Surprised #goopispoop isn't trending yet.
Debra Tate vs. J.Law
Everybody's favorite toe-sucking director Quentin Tarantino announced recently that he's making a movie about the Manson family and the 1969 murder of actress and model Sharon Tate. Both Margot Robbie and Jennifer Lawrence are reportedly being considered for the role of Sharon, but if Tate's sister Debra had her way, J.Law would be removed from consideration altogether.
"Not that I have anything against [Lawrence], but she's … she's not pretty enough to play Sharon," Tate told TMZ. "That's a horrible thing to say, but you know. I have my standards."
Don't we all.
Lele Pons and the Mysterious Case of the Donated Hair
If you have never heard of Lele Pons you are probably over the age of 25 and don't read the Cut as much as you should. This week the 21-year-old YouTube star got a lesson in lying on social media when she Instagrammed a photo of herself with noticeably shorter hair and her friend holding up what looked like a chopped-off ponytail, with the caption "DONATED MY HAIR!!!!! First time I ever cut my hair … what do you think???" Unfortunately, the ponytail was obviously just a bunch of extensions, and fans quickly called her out for lying about donating her hair.
Pons defended herself on Twitter, saying that she did intend to donate her hair, but apparently charities don't accept color-treated hair.
She also said the ponytail shown in the original photo was just supposed to be a "reference" for how much of her real hair was chopped off. Okay then!
Kardashian Kokaine Drama
The award for this week's dumbest drama undoubtedly goes to the Kim Kardashian cocaine scandal, in which Twitter users — including MSNBC host Chris Hayes — jumped onboard with a rumor that dust on a marble table in the back of a Kim K. selfie was actually lines of cocaine.
Anybody who has ever watched even five minutes of Keeping Up With the Kardashians knows that Kim is incredibly square and puritanical, to the point where it can actually be kind of self-righteous and annoying. She doesn't even drink! In the future, please exclude her from your false cocaine narrative.
Catch up on previous drama here.