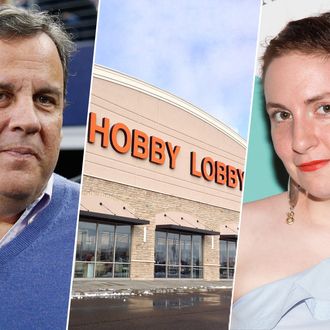 Chris Christie, a Hobby Lobby store, and Lena Dunham.
Photo: Getty Images
Every week brings such an overwhelming onslaught of news that sometimes the most entertaining bits can fall through the cracks. Here, we'll recap the pettiest squabbles, juiciest feuds, and other niche drama you didn't know you were living for.
Hobby Lobby Got Busted for Buying Smuggled Iraqi Artifacts
The last time Hobby Lobby was in the midst of a major controversy, it was back in 2014, when it sued for (and won) the right to make its female employees pay out-of-pocket for certain contraceptives. This time around, they're in hot water for … purchasing 5,500 stolen artifacts that were looted and smuggled over from Iraq. And nope, that's not where we saw this story going either.
So how exactly did a middle-American crafting emporium end up with over 5,000 sketchily purchased ancient cuneiform tablets and the like? Back in December 2010, the extremely Christian company spent $1.6 million on the goods — founder David Green is an avid collector of Biblical-era artifacts, most of which are meant to be stored in D.C.'s upcoming Museum of the Bible. But apparently, a couple of months prior, "an expert on cultural property law retained by Hobby Lobby warned the company that objects from Iraq were risky purchases, as many sites were illegally looted during the Iraq War and and the rise of ISIS."
By Wednesday, federal prosecutors announced that Hobby Lobby would be forfeiting the artifacts and paying a $3 million fine in the process. And also frantically scrambling to figure out how to make a realistic-looking ancient clay tablet out of a styrofoam sheet, spray paint, and some pipe cleaners.
Gwyneth Paltrow's Neighbors Hate Her House
Gwyneth Paltrow's greatest skill may very well be making everything she touches slightly controversial, whether it's recommending vaginal steaming on Goop or trying to build a new mansion in Montecito.
Per Celebitchy, it took four tries for the Montecito Board of Architectural Review to greenlight her 14,000-square-foot project, with several neighbors complaining that her planned house is far too large for the neighborhood. One neighbor's spokesperson even told "Page Six" that "she's created an uproar with neighbors on all three sides." A true gift!
Justice for Lena Dunham's Dog Lamby
The scandal involving Lena Dunham's dog Lamby has extended into its third week in the news cycle, which, frankly, should force us all to examine our lives a little closer and rethink some things. And yet, here we are.
As you may recall, back in June, Dunham acknowledged in an Instagram post that she gave up Lamby to the Zen Dog rehabilitation center, chalking it up to aggressive behavior on the dog's part because of abuse he suffered as a puppy.
Lamby was originally adopted from the BARC shelter in Brooklyn, and they came back on Thursday with their receipts. Robert Vazquez, a spokesperson, told Yahoo that Dunham wasn't exactly being truthful about Lamby's backstory:
"We checked the records for Lamby," Robert Vazquez told Yahoo Celebrity via email. "He was 'owner surrendered, not enough time,' so we do not know where she got 'multiple owners that abused the dog.'"
Or his behavior:
"When she adopted the dog from us, it wasn't crazy," Vazquez continued. "I have pictures of the dog loving on Lena and her mom, which is weird if the dog was abused. It wouldn't be cuddling with her or be in the bed with her 'boyfriend' in the pages of Vogue."
Wait for it:
"[She] didn't admit she bought her two new dogs [despite writing in the] New Yorker that dogs shouldn't be dumped or thrown away because they have feelings," he said.
Dunham responded, later that evening — how else — with an Instagram post, writing, "It's come to my attention that the staff at the shelter where I adopted Lamby have a very different account of his early life and behavioral issues than I do. While I'm sorry to have disappointed them, I can't apologize."
Lamby has yet to comment publicly.
Bathing Christie Family Versus All of New Jersey
Over the holiday weekend, Bruce Springsteen superfan and New Jersey governor Chris Christie abandoned all attempts at likability and embraced his inevitable fate as a complete monster. After a deadlock over the state budget led to New Jersey's parks and beaches being closed, Christie decided to take advantage of the empty Island Beach State Park and took his family for a day down the shore. But one enterprising photographer from the Star-Ledger caught the Christie family soaking up the sun, and his cover was blown. Like all good villains, Christie didn't evince an ounce of remorse, essentially telling reporters that the angry citizens of New Jersey would also be able to enjoy a private day at the beach, had only they won the gubernatorial election. What a guy.
Rob Kardashian Versus Blac Chyna Part 89,4032
The earth is round, one plus one equals two, and Rob Kardashian and Blac Chyna are fighting again — thus are the three constants that govern our universe. But the sole Kardashian brother and his baby mama took the spat to new heights this week when Rob published naked photos of Chyna without her consent to his Instagram. The move was allegedly in response to Chyna texting Rob photos of her having sex with another guy in the bed where they conceived their daughter, Dream.
After the initial publication of the photos, Rob had a field day on Instagram, threatening to release a Lemonade-style album to reveal Chyna's cheating ways. Then Chyna accused Rob of domestic abuse on her Snapchat, and the Kardashians expressed their concern for Dream living with such volatile parents. Then the lawyers got involved, and some even said Rob could end up going to jail for publishing the pictures. Wow, who could've possibly predicted things would end badly between these two?
The Story of Vegan Butthole Kid
If, at the end of this officially-shortened-but-honestly-really-long-seeming week you find yourself wishing for a bit of drama that involves overzealous vegans, negative restaurant reviews, and a kid's butthole, you've come to the right place.
The owners of the Imagine Vegan Cafe in Memphis recently became embroiled in a proctological controversy when a Google user posted a review alleging that while she was eating, a baby hopped up onto a table "with its black theyre so dirty feet" and bent over to show her its butthole.
Instead of taking the criticism in stride and perhaps limiting baby-butthole sightings at their establishment, the owners of the restaurant hit back with several posts on Facebook, calling out the reviewer by name and declaring, "Haters are not welcome at Imagine!!!!" Several posts — since deleted — followed, including one that read, "God forbid a child is friendly." Yes, God forbid.
Catch up on previous drama here.