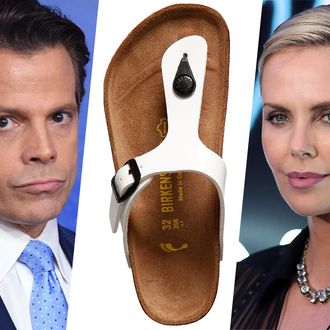 Anthony Scaramucci, a Birkenstock sandal, Charlize Theron.
Photo: Getty Images
Every week brings such an overwhelming onslaught of news, that sometimes the most entertaining bits can fall through the cracks. Here, we'll recap the pettiest squabbles, juiciest feuds, and other niche drama you didn't know you were living for.
Anthony Scaramucci vs. Reince Priebus, Steve Bannon, Himself
Here are some things we know about Anthony "the Mooch" Scaramucci, the new White House Communications Director: He's 53 years old and from Long Island. He's a big fan of the Entourage movie. You are legally required to do the shaking Italian hand gesture after saying his name out loud.
And he's been having a hell of a first week.
On Tuesday, he threatened to "fire everybody" if the leaks continued.
On Wednesday, he accused Reince Priebus — on Twitter — of leaking his financial disclosures and called for an FBI investigation.
Also on Wednesday, he called Ryan Lizza of The New Yorker to, it seems, just go on an unhinged rant. The interview went up on Thursday, leading America to collectively lose our minds over: "I'm not Steve Bannon, I'm not trying to suck my own cock."
It seems as if the Mooch's worst enemy in Washington may very well just be himself.
Shady Dog Rescuer vs. Lisa Vanderpump
Lizzie Scherer of Saving Spot dog rescue went to "Page Six" in an attempt to sully Lisa Vanderpump's good name, saying that the Real Housewife and founder of the Vanderpump Dog Foundation owed her $32,000.
Scherer was quickly refuted by Vanderpump who said, "We can't be involved with someone who doesn't have a charity set up properly. Everything was messy. We helped pay her rent. We were purely trying to help her because of our love of dogs, not because of our love of Lizzie."
Evidence shows that Saving Spot lost its tax-exempt status back in 2015, meaning it was illegally accepting "donations" — including the unusually high $475 adoption fee — since then. Plus, all the Yelp reviews point to it as a scam.
So it's pretty clear who won this round. Giggy out.
Birkenstock CEO vs. Amazon
Sure, Amazon may be a wonder emporium where (if you ignore your conscience) you can purchase anything and have it shipped to your door in 48 hours, but not everyone has fallen under their spell — including Birkenstock CEO David Kahan.
In a four-page letter sent to Birkenstock retailers this week, Kahan insisted they would no longer work with any retailers who sold Birkenstocks to "pathetic" Amazon, and he insisted on doing so using A LOT of caps lock:
By knowingly encouraging a breach of our policy, Amazon is potentially legally liable for "tortious interference" with our business. I have never in my 25+ years in this industry ever heard of a retailer on such a scale as Amazon, actively soliciting other retailers for a brand's inventory in the case of such brand not choosing to sell them … By selling to Amazon, who may in effect re-sell the product, you would be breaking our policy. I will state clearly, any authorized retailer who may do this for even a single pair will be closed FOREVER. I repeat, FOREVER.
"I take their desperate act as a PERSONAL AFFRONT and as an assault on decency and all we, as a brand, as an organization, and as a partner, hold as shared values," he continued.
Take that, Bezos.
The Out-of-Control Pizzaiolo
Until Monday, Whitney Aycock ran the pizza joint Slice o' Whit in Riis Park. But, as he shared on Instagram in a post that also inexplicably included a pack of hash-infused lollipops, he was evicted. The reason? He was "too vulgar."
Per GrubStreet, this entails, playing "profanity-laced music, an instance of him responding to one such complaint by blasting the music in a woman's face, complaints from staff that he disrupted a free movie night by blasting music and refusing to turn it down, failure to seek approval for modifying a historic structure, and more."
Aycock, who was also known as the "Pizza Nazi," has, in the past, also been busted for stealing a pizza oven and growing pot in one of his restaurants. The pizza looked really good, though.
The Silicon Valley Sexual-Harassment Scam
It's a tale as old as time: CEOs become bitter rivals, CEO 1 gets accused of sexual harassment then files a lawsuit claiming CEO 2 made up the harassment allegations to topple him, both men are still richer than you and I will ever be, etc.
In a posting to the Japanese site Hatena, an anonymous user claimed Fenox Venture Capital CEO Anis Uzzaman sexually harassed her. But according to a new lawsuit, Uzzaman says the allegations were actually conjured by his rival, Btrax CEO Brandon Katayama Hill. Uzzaman claims that Hill was trying to capitalize on the outrage Uber's recent sexual-harassment scandal stirred up to oust him from his position. Is it time for Bravo to film the Real CEOs of Silicon Valley?
Old Drama Dies Hard
This week, we finally received new gossip in the three-year-long feud between actresses Charlize Theron and Tia Mowry. Theron responded to Mowry's claim that she rolled her eyes at her in a 2014 SoulCycle class by insisting, "I'm not an eye-roller, but I would be like 'Fuck off.'" Case closed.
Catch up on previous drama here.