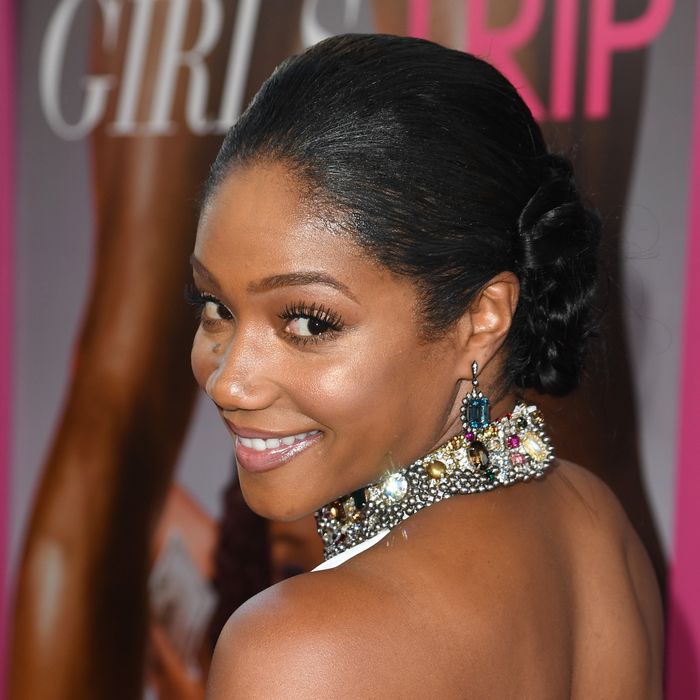 Tiffany Haddish.
Photo: ROBYN BECK/AFP/Getty Images
It's been the summer of Tiffany Haddish. The comedian stars in Girls Trip, the R-rated comedy, which earned an estimated $30.4 million its opening weekend; Vanity Fair called her "the funniest person alive right now"; and she even revealed to USA Today that, just like her Girls Trip character, she has in fact pooped in a man's shoes. What a hero!
Unfortunately, Haddish seems to have wandered into "problematic fav" territory during an interview with the L.A. Times in which she was asked about her comedic inspirations:
I still want to work with Bill Cosby, I don't care, I'll drink the juice. I'll drink the juice. I'll take a nap. I don't give a damn. [laughs] But seriously, I would love for him to play my grandfather in something.
Yikes.
As a quick reminder, nearly 60 women have accused Bill Cosby of drugging and molesting them in incidents dating back decades, and Cosby admitted in a 2005 deposition to having used Quaaludes to have sex with women. The most recent case, brought against him by Andrea Constand, resulted in a mistrial due to a hung jury.
While Haddish's career and bowel movements are inspirational, it's safe to say there will a big "Too Soon" sticker on Cosby material for a while.