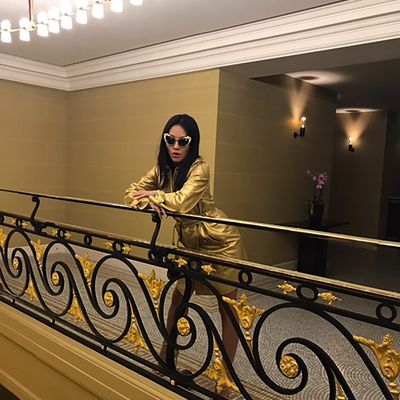 Gold trench, gold balcony.
Photo: Tina Leung
Weekend With is an ongoing Instagram series that features people we like photographing places we'd like to be. Follow @thecut on Instagram to join in, and tag your photos with #weekendwith when you travel somewhere new.
What to wear to Haute Couture in the heat of summer? Fashion stylist and blogger Tina Leung recently confronted this pressing dilemma. Below, she shares her solutions with the Cut. (Some short answers: cut-out Chanel and a feathered cloak.)
Leung is a comfortable globe-trotter, having grown up in Hong Kong and Los Angeles and attended the Fashion Institute of Technology in New York. Her trip to Paris and London was filled with cotton candy at fashion parties and candy-colored gowns for twirling on the sidewalk. Scroll down to get very jealous of how she spends her weekends.