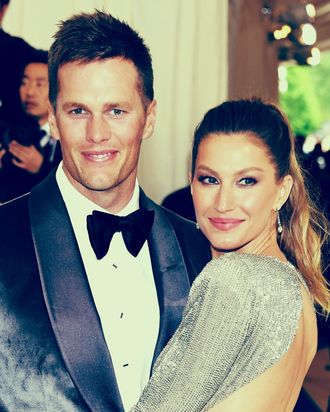 Tom Brady and Gisele Bündchen.
Photo: 2017 Getty Images
Over the past two years, America has been divided as we grappled with an important question: Are Gisele Bündchen and Tom Brady too high-profile to be admitted into a small Massachusetts country club that's literally next door to their home? And now, after a tortuous wait, we finally have our answer: No.
As the Boston Globe reports, the strawberry-less football player and his supermodel wife have finally been admitted into the Country Club in Brookline, two years after they filled out their application. Their request was put on hold while country-club members debated whether Brady and Bündchen's admittance would attract too much attention to the private institution. At one point, the club even suggested the extremely healthy-eating couple reapply after Brady stops playing for the New England Patriots (which, of course, will be never).
However, the couple has recently been spotted playing golf at the club and the football player's full name — Thomas Edward Brady — now appears on the roster of new members on the club's website, the Globe notes. Under Brady's membership, both he and Bündchen get to take advantage of the club's golf courses, tennis courts, curling rink (yesssss), swimming pool, skating pond, cross-country skiing trails, and more.
It's so heartwarming to see two extremely wealthy people finally get access to an exclusive club for other extremely wealthy people.