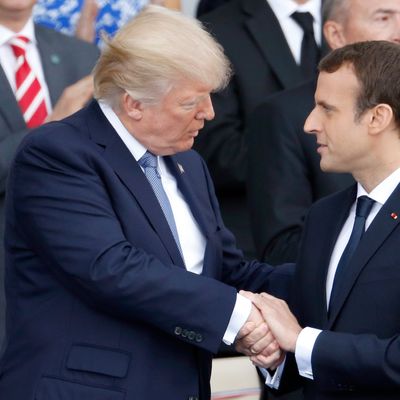 Trump and Macron: best friends forever.
Photo: Chesnot/Getty Images
The evolution of President Trump's handshakes with French president Emmanuel Macron has been fascinating to watch. Initially, the pair shook in what was described as a "good-natured death grip," and Macron subsequently called it a "moment of truth" designed to "show he would not make small concessions, not even symbolic ones."
But last week the pair shared a very different handshake — one that lasted about six hours and involved a lot of friendly patting.
In an interview with the New York Times on Tuesday, the president seemed particularly jazzed about Macron's penchant for physical contact:
After that, it was fairly surprising. He [President Emmanuel Macron of France] called me and said, "I'd love to have you there and honor you in France," having to do with Bastille Day. Plus, it's the 100th year of the First World War. That's big. And I said yes. I mean, I have a great relationship with him. He's a great guy.




HABERMAN: He was very deferential to you. Very.




TRUMP: He's a great guy. Smart. Strong. Loves holding my hand.




HABERMAN: I've noticed.




TRUMP: People don't realize he loves holding my hand. And that's good, as far as that goes.

_________




TRUMP: I mean, really. He's a very good person. And a tough guy, but look, he has to be. I think he is going to be a terrific president of France. But he does love holding my hand.
Maybe Macron can take over for Melania.