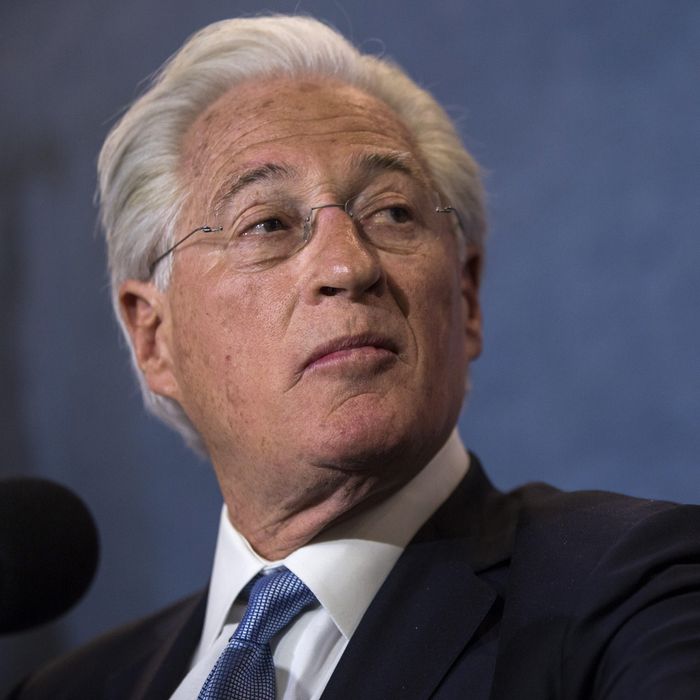 Marc Kasowitz.
Photo: Zach Gibson/Bloomberg via Getty Images
Earlier this week, Donald Trump Jr. tweeted out emails he exchanged with a British music publicist who helped arrange a meeting with a Russian lawyer who said she had disparaging information on Hillary Clinton. And we haven't even made it to Friday without more bonkers emails surfacing: Marc Kasowitz, Trump's attorney on the Russia case, apparently sent a stranger multiple emails threatening him and calling him a "bitch."
On Tuesday, ProPublica reported that Kasowitz may not be able to get a security clearance because of alleged alcohol-abuse issues. Meanwhile the Times said that Trump has "grown disillusioned" with Kasowitz, while Kasowitz himself is reportedly frustrated with Jared Kushner.
When an anonymous viewer — who ProPublica describes as "a retired public relations professional in the western United States" — read about the alcoholism allegations, he emailed the Kasowitz firm address a message with the subject line "Resign Now." He wrote, in part, "I believe it is in your interest and the long-term interest of your firm for you to resign from your position advising the President re. Pending legal matters. No good can come from this, and, in fact, your name may turn out to be a disparaging historical footnote to the presidency of DJT."
ProPublica has since published screengrabs of Kasowitz's replies. Here are some excerpts from the multiple emails that followed:
F*ck you [censoring his]
I'm on you now. You are fucking with me now Let's see who you are Watch your back , bitch.
Call me. Don't be afraid, you piece of shit. Stand up. If you don't call, you're just afraid.
I already know where you live, I'm on you. You might as well call me. You will see me. I promise. Bro.
The man says he also forwarded the emails to the FBI, where they probably haven't been this entertained since the Podesta risotto recipe.