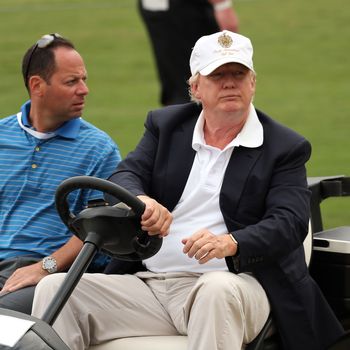 President Trump rides a golf cart.
Photo: 2015 Getty Images
In some respects, President Trump's election has been good for his family's brand: Sales of his daughter's clothing line went up in 2016, for example, and a recent financial disclosure found that revenue at Mar-a-Lago — the "winter White House" — is up. But that trend isn't playing out at his golf club in Southern California, which has seen a definite decline in business, the Washington Post reports.
According to city documents, revenue from green fees has dropped by 13 percent since the club's owner entered the presidential race. At least three charity golf tournaments have relocated. TV shows and movies aren't filmed there anymore. And the club's wedding business is basically defunct.
The Post reports that Trump National used to be a popular spot for wedding receptions — couples would get married at a city park across the street, and they'd head to the club for the reception. Before its owner got into politics, the club averaged 17 weddings a year. But when he was a candidate, that number fell to 11. And now, according to city records, it's down to zero.
"In some cases, it has proven a challenge to sell the president's brand without offering proximity to the presidency itself," the Post notes. And when it comes to getting married, proximity to the president is maybe not the best look.