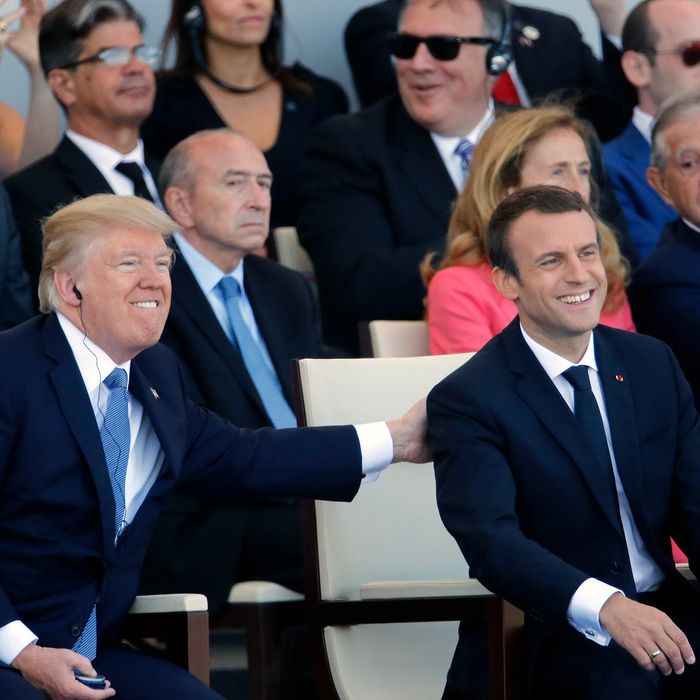 President Trump was very excited about the parade.
Photo: 2017 Getty Images
When French president Emmanuel Macron called the White House to invite President Trump to Paris for Bastille Day, according to the Washington Post, it was expected that Trump would decline. Then he found out about the military parade. Thanks to that little detail, "French and U.S. officials rushed to schedule [his] last-minute trip" to Paris, and on Friday morning, Trump reportedly looked almost as happy watching the parade as he did honking the horn of a big truck.
According to the Post, he had a prime seat and he loved every minute of it:
He eagerly leaned forward as he took in the spectacle, frequently jostling his wife or French President Emmanuel Macron when he saw something that particularly delighted him. Whenever troops were before him, Trump jumped to his feet and applauded with an enthusiasm that exceeded the response of those around him. For the first time in months, he looked relaxed and to be thoroughly enjoying himself.
When nine fighter jets flew overhead, only one other member of the crowd was as stoked as the president:
Trump watched the show in awe, as did 8-year-old Wissem Reimann, who wants to be a pilot when he grows up and attended the parade with his mother.
Just like his son: forever young.