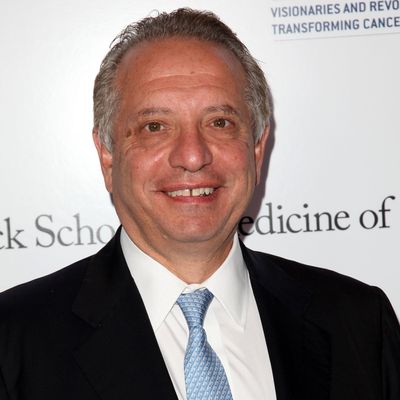 Dr. Carmen Puliafito
Photo: Brian To/WireImage
According to the Los Angeles Times, Dr. Carmen Puliafito resigned as dean of the University of Southern California's Keck School of Medicine shortly after it was revealed he had been present when a sex worker overdosed in a Pasadena hotel on March 4, 2016.
Sarah Warren, who was 21 at the time, told the Times she had been partying with Puliafito for two days when she overdosed on gamma-hydroxybutyrate, a date-rape drug that, when taken in lower doses, can have euphoric effects. When she woke up in the hospital six hours later, she said Puliafito picked her up and "we went back to the hotel and got another room and continued the party."
The Times launched an investigation into the incident following an anonymous tip from a witness who had previously contacted Pasadena authorities to urge them to investigate the incident. The same witness also reached out to USC's president C.L. Max Nikias on March 14, 2016. Puliafito resigned a week and a half later.
In the course of their investigation, the Times reportedly reviewed dozens of videos and images recorded in 2015 and 2016, which seem to show Puliafito partying and using a variety of drugs including meth, heroin, and ecstasy.
Video recordings from the night before the overdose supposedly show Warren asking Puliafito to help her crush up methamphetamine. In another, Puliafito is seen holding "what appears to be a meth pipe in his hand and, later, in his mouth."
Puliafito has not commented on the findings.
On Tuesday, president Nikias sent a letter to the USC community regarding the Times' story.
"We are concerned about Dr. Puliafito and his family," he writes, "and hope that, if the article's assertions are true, he receives the help and treatment he may need for a full recovery. He is on leave from our school of medicine, and is not seeing patients."