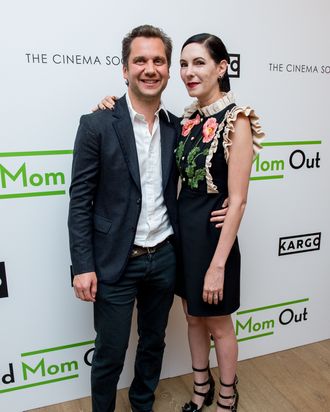 Harry and Jill Kargman.
Photo: Roy Rochlin/FilmMagic
Upper East Side women have always been innovators in the fine art of cheating time.
So, what's the latest quest for eternal youth?

A tighter vagina, of course.
From Jade eggs, which reportedly improve sex, to steams that claim to clean your vagina and uterus, there's no shortage of approaches to vaginal vitality.
Now, according to Jill Kargman, creator of Bravo's scripted series Odd Mom Out, which studies and satirizes the Upper East Side, the Gold Coast is obsessed with lasering their vaginal wall. They are turning to medispas like V Spot, which offer products like FemiLift and VTighten, designed to treat "vaginal looseness." (V Spot was founded by Real Housewife of New York City Cindy Barshop, and touted by the Kardashians.)
"There is a light saber that they shove up there, and it emits lasers that make a million tiny cuts in your vag, and then tightens you up and re-virginizes you," Kargman told the Cut at a party for Odd Mom Out's third season earlier this week, hosted by the Cinema Society and Kargo. "One person I know orgasmed during it. Apparently, it's very stimulating."
Kargman knows the Upper East Side well. She grew up on Madison, Avenue, attended the elite Spence school, and her father was Arie Kopelman, former president of Chanel. On the series, she roasts parents who deliver sushi to their kids at summer camp via family jet, and pokes fun at those terrified of opening their own front doors. This season, Kargman, who has had three vaginal births, takes on the trend of vaginal youth.
"Sometimes I feel like, with women who have had C-sections, there is a slight aura of superiority that they are intact down there. And I am the Holland Tunnel with a toll booth in my panties," Kargman said. "Maybe it is just me projecting, but I do kind of wish I had done the slice and dice instead of the labor."
But for Kargman, vaginal rejuvenation is still a beauty treatment too far: "I don't love my husband enough to do that. He can deal with throwing a hot dog down a hallway."