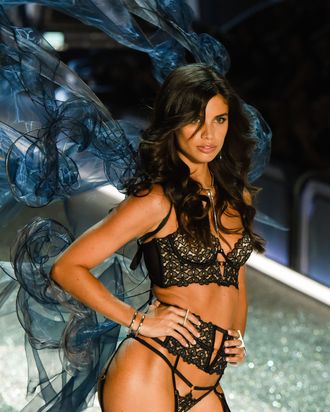 Sara Sampaio.
Photo: 2016 Presley Ann/Getty Images
Portugeuse Victoria's Secret Angel Sara Sampaio was first scouted when she was 15. The pancake-lover has since been on the covers of GQ, Maxim, and Vogue Portugal and walked the runways for everyone from Marc Jacobs to Elie Saab. After being rejected two years straight, the determined model walked into a Victoria's Secret casting telling the director, "I'm not going to give you any reason not to book me this year." The strategy worked and she's now been an angel since 2013. The new brand ambassador for Moroccanoil (she brings a travel-size version of the Treatment in her purse for flyaways) caught up with the Cut about not being able to give up carbs, taking care of her mental health, and always texting her mom.
How I start my morning: It depends on if I'm working or if I'm not. Let's say I'm not working. I'll probably wake up around nine, ten, and then I'll eat breakfast, and then errands. My favorite breakfast is two sunny-side-up eggs with avocado toast. And sometimes I'll have pancakes, maybe with some banana.
How I sweat: I've been doing a lot of SLT. It's like a really intense Pilates with a machine. I've noticed with my body that small movements have done more for my body than the boot camps. My body moves better when it's very focused on small movements that elongate your body and your muscles.
I tried SLT for the first time five or six years ago when I first got to New York. It was really hard, it was too hard. Then I was training for the Victoria's Secret show last year and gave it another try. I really liked it, it was not as hard. I think they had changed it a little bit. I could actually go through a whole class without feeling like I was going to break down.
Now that the weather is a little better I might go on some runs. I'm not a runner, but I'm pushing myself. When the weather gets a little bit nicer, I start thinking, Ah, I may just go for a run outside, even if it's just about a five-minute run.
What wellness means to me: Wellness is being happy, feeling good, and not aching. It's more about feeling good inside and that will come out on the outside.
On eating: I'm a big believer in not doing crazy diets and not to stop eating what makes you happy or what you like. It's all about balance. If you've had a long day and you really want a burger, just have that burger or pizza and maybe for lunch the next day you have fish with vegetables or salad with chicken.
I've been through, not crazy diets, but I've been very strict or not eaten carbs and that made me so crazy. I'm from Portugal — we eat a lot of carbs, like bread, pasta, and rice in just one meal. There's no worse thing when you want something so bad and you're like, I can't have it, I can't have it. I was stressing so much about it that my body was not feeling well. Mentally, you're not feeling good. If I want to have a little bread for lunch because it makes me happy, I'm good.
On traveling for work: I'm very lucky that when it comes to planes, I just pass out. I just sleep on the plane, it's my time. I'm not on the computer, I'm disconnected from the outside world. It's the only time ever that I can disconnect.
Otherwise while traveling, I try to connect to my family and my friends. Modeling can be a bit of a lonely profession because you're usually traveling by yourself. Even though you work with a lot of people during the day, you're usually just meeting them. Most of the time you're not working with best friends or people you normally see every day.
I have to text my mom every time I land. I once didn't in the beginning of my career and she yelled at me and I'm like, Mom, chill. And she's like, "No, you have to text me!" So now every time I land, I either already have a text from her like, "Did you land?" or I'll text "Just landed! and everything is fine!" It's kind of cute.
My wellness struggle: I'm a very stressed and anxious person — that's been the hardest for me to deal with. If I'm tired and I've been traveling to five countries in a row, it takes a toll on me and I get very worked up, especially if I am not sleeping. When you feel that way, it just goes everywhere, you know? Your skin starts breaking out, you don't feel good inside and it shows everywhere.
Therapy has been one of [the things that helps me]. You go to the doctor every six months to take care of your physical health, so take care of your mental one. Reading has helped me a lot, and to put things in perspective. I try to be very aware of situations and people. I think being aware of that has really helped me take a little bit back the anxiety in a certain way.
My wellness advice is: If I don't get my eight hours of sleep, it's going to be a hard day. Your skin regenerates, your eyes are brighter and bigger, you know? Sleeping is a reset of your body. I try to work out as much as I can, but also giving yourself some rest time.
Besides sleeping and drinking water, I really love using oils and serums on my face — adding vitamins and things I'm missing like that. It's something I've only started recently, the past few years.
Three products I love (and a bonus):
My boyfriend and I do them together. I actually started using them because he had them. [Editor's note: She's now the third Victoria's Secret Angel to recommend them.]
Recently I've been using this. It's not very heavy. It's gentle and not very thick, but also not so thin that you just feel like you're putting water on. This is more of a gel, it's kind of a jelly creamy thing. I love dewy, glowy, and healthy skin — and this makes me look like that without breaking out.
It's my favorite highlighter.
It's the only one that fits my whole eye. I even sometimes bring it to jobs because I love the way it curls. Sometimes I have a hard time getting the ends because my eye is more almond shaped, but this one works really well.
If you buy something through our links, New York may earn an affiliate commission.