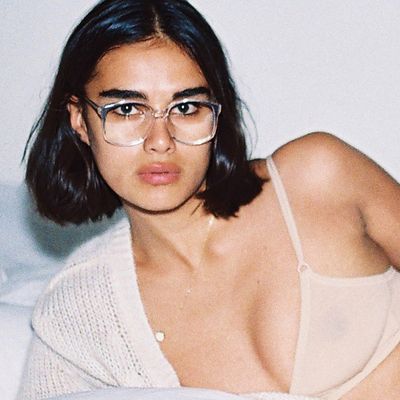 Photo: Courtesy of American Apparel
It's been six months since American Apparel began winding down operations: Just long enough for my last pair of AA underwear (white cotton briefs with surprisingly flattering butt-ruching) to get loose and dingy. Prior to needing a restock, I hadn't given the store's demise much thought. But, trying to find a substitute, I realized what a unique niche American Apparel had carved in lingerie.
American Apparel will probably be remembered as a T-shirt store run by a gross dude. But, for me, it was always about the comfy-yet-slutty underwear, starting with the women's cotton-spandex jersey "boy" briefs. The idea was to look like you were borrowing the underwear from a guy — but this was 2004, and your boyfriend probably wore plaid Old Navy boxers, so it was like you were borrowing underwear from an imaginary, older, 1970s boyfriend. Except unlike his underwear, American Apparel boy briefs didn't bunch at the crotch and were cut wide enough to accommodate female hips. (Sort of. Their range of sizes was ludicrously small.) Billboards featuring women crawling around in the back of vintage cars filled in the implied backstory.
American Apparel's idea of sexy was less restrictive and itchy than the idea of sexy shilled at Victoria's Secret, and in this small way it felt liberating. Even when the boy briefs stopped feeling cool, American Apparel always drew me back with some new comfy-slutty innovation. First, the "hot short": cut high in the back, like Brazilian bikini bottoms, but low in the front, covering any ingrown hairs. Then came cupless mesh bras so flexible you could sleep in them. When American Apparel got into bodysuit game a couple years ago, their offerings were a literal translation of the comfy-slutty ethos: modest crew-neck tee on top, string thong below.
American Apparel was inconsistent in every way — design, sizing, pricing, quality — except in their commitment to making leisurewear fetish-y and fetishwear leisurely. This came in handy on Halloween. But year round, American Apparel lingerie met a specific need, closing the psychological and logistical gap between practical, cotton, period/laundry undies and capital-L Lingerie. Unlike, say, a matching lace balconette-and-thong set, comfy-slutty underwear doesn't advertise whether or not you think you are getting laid that day. A high-cut cotton thong bodysuit is washing-machine-friendly. It's gynecologist-approved. It's a look that says, I just dress like a 1982 Daytona Beach spring breaker all the time!
A nostalgia-tinted, sex-whenever mentality was, in retrospect, a problematic feature of American Apparel's brand. Founder and CEO Dov Charney was by many accounts an old-school sexual harasser, a fact that eventually got him removed from company leadership. But then, he also oversaw one of the the country's largest garment manufacturers — a "sweatshop free," single-origin alternative to sketchily made fast fashion. Shopping at American Apparel involved the kind of consumer calculus that fries the circuitry of well-meaning liberals, and it netted out, for me, in resignation. That perv made good underwear.
Now that bodysuits are ubiquitous and a sexist joke will get you kicked off the board of Uber, I can hardly believe that such a place existed for so long. A place where an alleged sexual harasser oversaw the production of bras? Where all the goods cost marginally more than they would at the Gap, and the stores stayed open later than my laundromat?
So: Where is everybody getting their comfy-slutty basics now that American Apparel is gone?
If you go to American Apparel's website today, it will tell you that "good things are coming," and they expect to be back online and selling this summer. Based on the exodus of design talent and the economic effect of immigration raids, it's safe to say AA won't be the same. In the meantime, I've been searching for a comfortable, ethical, and slutty substitute for the beleaguered brand. Here's what I've found.
(NB: Unfortunately, many of these are not big-boob-friendly — but I hear good things about Else.)
Calvin Klein shrewdly took up the mantle of retro-sexy underwear at the beginning of this never-ending wave of '90s nostalgia. The logo briefs are of dubious origin and not particularly flattering, except, it seems, on Kendall Jenner. But the CK mania means you can pick up a discounted three-pack at Century 21 or Marshalls.
Designed and sewn in California, made from sturdy domestic organic cotton and nontoxic dyes, Pansy's provenance and quality is flawless. The designs are equally wholesome — if "rural '40s French naïf on the eve of her deflowering" is your look, you're in luck.
Basics for the Totokaelo set, the French-Dutch line Baserange is as ethical as Pansy and a hair sexier. But at $30 t0 $60 bucks a pair — and made from exquisite hand-wash-only linen-bamboo blends — they're only going to be a workhorse for, well, the Totokaelo set.
Cut and stitched in NYC, Land of Women's minimalist-sexy bodysuits are like American Apparel went to grad school and married an art collector. More than $100 a pop and made from viscose (Italian for rayon), they don't scream utility. But the brand gets major bonus points for making a nursing bra that's chic.
More faultlessly produced, '40s-style, soft-cup basics at a price point that prohibits "spotting," Botanica Workshop's delicate proportions pleasingly mimic serious lingerie, but are designed for human movement. Is this the future of lingerie? I might need to block out more time for hand-washing.
This 30-year-old Miami-based line's take on comfy-slutty is "irresistible every day." It doesn't brag about its manufacturing, and the price suggests it's nothing to write home about — but On Gossamer's prices do make it feasible to actually wear every day, and it's designed to include those who balk at cupless bras. I'm stocking up on their new mesh-cotton line. Get back to me to find out how it holds up in the laundry.
Leave it to the Italians to infuse minimal, cotton, locally produced undies with subtle nods to the erotic: cutouts, boning, mesh panels. The Nude Label's offerings are limited, but the prices are competitive (especially if you don't convert euros to dollars) and their marketing is equal parts male and female gaze.
The boy briefs of early American Apparel live on in Sloane & Tate's high-cut briefs and triangle bras, made from cotton and jock-strappy elastics. They're also made in women-run factories in Los Angeles and reasonably priced. It's more a direct substitution for American Apparel than an evolution, except for their Old Navy–style boxers, billed as women's loungewear. Perhaps we've come full circle?
With empowerment marketing, a slick website, and vague claims to owning their own factory, Lively feels like the slick start-up of the comfy-slutty lingerie space. But offerings like the bralette and thong in geo-lace — a cross between mesh and lace — appear to fit the bill, and the price is right.
 As a mostly lace lingerie emporium, Lonely throws a wrench in the comfy-slutty lingerie works. Less comfy and practical than their cotton competitors, Lonely's restrained, BDSM-influenced styles (to say nothing of their inclusive sizes and reasonable prices) make the case for redrawing the line between comfy and slutty — but shopping smarter for both. I forgot to look whether their manufacturing was ethical on my way to check out.
If you buy something through our links, New York may earn an affiliate commission.