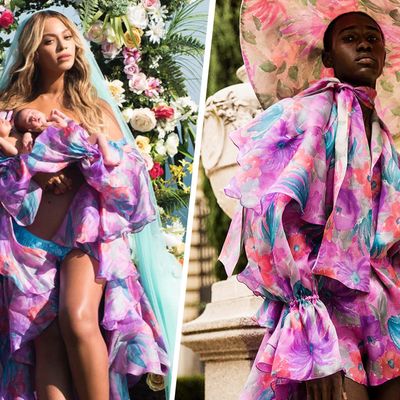 Beyoncé in the Palomo Spain robe.
Photo: Courtesy of Instagram/beyonce; Courtesy of Instagram/cesarsgr
We finally have confirmation of the birth of newborn twins Sir and Rumi Carter, complete with a floral-filled photo shoot that Beyoncé shared on Instagram early this morning. The shoot was aesthetically in line with her February pregnancy announcement, but this time she wore an extravagant silk organza robe from an ungendered collection by Palomo Spain.
It's noteworthy that Beyoncé chose a new designer for such a big announcement. Alejandro Gomez Palomo launched his collection after a presentation at the London College of Fashion in 2015. He told the Fashion Law that he's never designed another piece quite like that robe, which is made from vintage silk organza.
Of course, since this is Beyoncé we're talking about, you can't just buy the same robe; it's from a spring 2017 collection. But if you like the look, try one of the options below.
If you buy something through our links, New York may earn an affiliate commission.