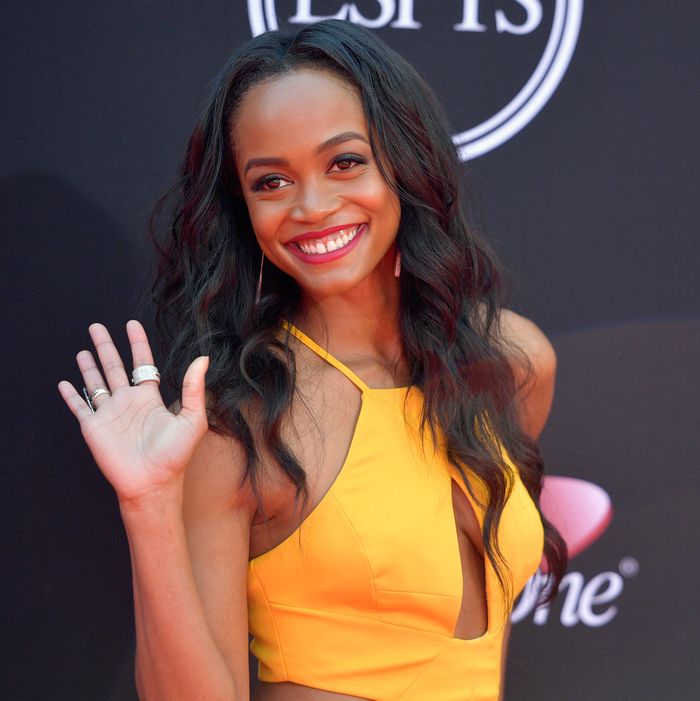 Bachelorette Rachel Lindsay.
Photo: Matt Winkelmeyer/Getty Images
Bachelorette Rachel Lindsay reportedly stood up her closest friends from television this weekend when she was a no-show for her own engagement party at the Dominican Republic's Hard Rock Punta Cana.
Lindsay's "true love" is expected to be revealed in several weeks — if it hasn't already been accidentally leaked. But the Bachelorette was planning to celebrate the engagement early with Bachelor Nation alums: Raven Gates, Astrid Loch, Danielle Lombard, Jasmine Goode, Sarah Vendaland, and Alexis Waters.
Although, come takeoff, Lindsay was nowhere to be found. "All of the girls went this weekend because Rachel's obviously engaged and this was going to be her fun getaway weekend to celebrate," a source told E!. "She somehow didn't make it on her flight yesterday. No one has any idea what's going on. She was supposed to be there. It's her trip. But at the last minute she didn't show up."
Per Instagram, the rest of Bachelor Nation made safely it to Punta Cana, where, according to Us Weekly, they toasted the missing Bachelorette.
Lindsay, meanwhile, posted a photo on Instagram Saturday morning from a location which did not look like the beach — officially thickening the plot.