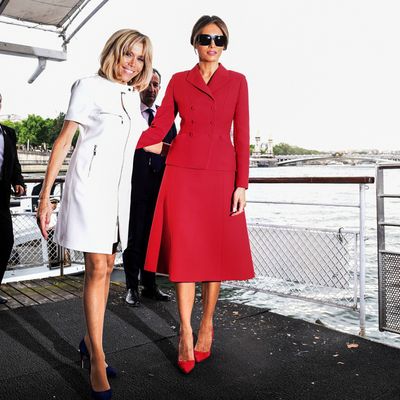 Brigitte Macron and Melania Trump.
Photo: Martin Bureau/AFP/Getty Images
To an American in Paris, Bastille Day feels joyously familiar — a holiday so like our own Fourth of July, commemorating an 18th-century revolution with summer picnics, parades, and fireworks at twilight. To take part in this celebration with the French is to feel our countries' centuries-old friendship, our shared commitment to democratic values, our mutual casting off of despotism, our common modernity.
Not this time, however. The Trumps' Bastille Day visit distinctly dimmed that warm recognition of shared values. And as it so often does, fashion can help us understand politics.
For her visit to France, Melania Trump wore a striking red Christian Dior suit, with a big skirt and tightly buttoned waist. It was lovely, and also telling. Dior (along with the talented designers who have helmed his company since his death) is the subject of a vast retrospective this summer at Paris's Musée des Arts Décoratifs, and Mrs. Trump clearly honored the iconic designer with her choice. But the Dior style telegraphs a very particular, 1950s vision of womanhood (as did the First Lady's bouffant updo), which resonates with the state of American politics today.
"Christian Dior: Designer of Dreams," is a crowd-pleasing, glamorous blockbuster, attracting thousands daily. Museum visitors gasp as they look up at spectacular garments often displayed on tiered platforms rising up to soaring marble ceilings: wasp-waisted ball gowns with billowing skirts, cocktail dresses encrusted with gemstones, structured wool suits with corseted jackets and skirts flaring stiffly over crinolines. The show is an extravaganza of gorgeous, dated impracticality. And that was the point.
Dior's retro, hourglass, exaggeratedly feminine silhouette, known paradoxically as the "New Look," represented a post-war rebound for fashion gender roles, a return to a restrictive, antiquated style. It reshaped the body with structured fabric carapaces consisting of massive skirts, tightly nipped waists, petticoats, rigid brassieres, and other encumbrances. The clothes were made of the most sumptuous, costly materials imaginable — shimmering silks, lush velvets, feathers, fur, jeweled embellishments — and in such huge quantities that some gowns made it challenging even to pass through a doorway.
After the misery of war, such extravagance felt restorative to many, a return to Parisian luxury and leisure. But Dior's vision also represented a backlash against the streamlined modern looks and liberated lifestyles many women had embraced during World War II, when so many had entered the workforce for the first time, replacing the men gone off to fight.
When the war ended, though, President De Gaulle told women to stop working, go home, and "make French babies." Dior reinforced that retrograde directive with his impractical, constraining clothes, which seemed better suited to royalty of centuries past than to independent women of the 20th century. The show at Les Arts Décoratifs overtly acknowledges Dior's royalist nostalgia, juxtaposing some of the most lavish gowns with 18th-century portraits of noblewomen dressed in oddly similar garb.
To drive home this connection between the 1950s and the 1700s, curators have even recreated the famous Hall of Mirrors at the Chateau de Versailles, the ornate gallery where French nobility once paraded their finery. Here, in this latter-day Versailles, a timed light projection periodically bathes everything — dresses, art, and spectators — in a shower of shimmering golden discs, gilding even vision itself for a few moments.
The point is clear: Gorgeous as they were, Dior's designs were saturated with a yearning for a mythic past when aristocratic women molded their bodies into exaggerated, ornamental, nearly immobilizing shapes — a past sanitized of less pretty realities (like the starving peasants, for example). It's fine to don gold-colored glasses for a few hours while swooning over the Dior show. Such royalist nostalgia can live comfortably in a Paris fashion museum; in the United States, however, it lives in the White House.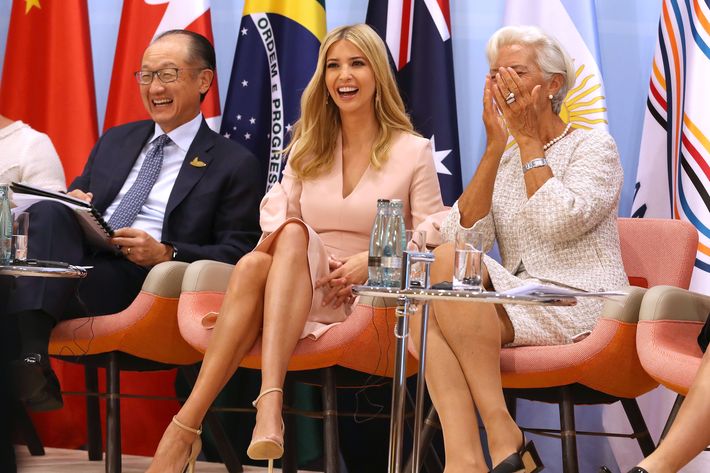 The Trump family and administration seem to embrace the rigid gender distinctions of the 1950s (or the French aristocracy), evoking a nearly prerevolutionary world of gilded palaces, fawning nobles (or cabinet secretaries), and governance through family dynasty. Even Ivanka, sitting in for her father at the Hamburg G20, wore an oddly girlish, baby-pink dress with giant bows on swinging sleeves. The dress caricatured her own role as "Daddy's little girl" — while also managing both a "bombshell" vibe (it was low-cut with a tight bodice) and a dash of Marie Antoinette in her "shepherdess" mode. (That dress sparked some debate over whether Ivanka's purported feminism was consistent with pink bows. But Ivanka's personal opinions are less important than how her dress functioned symbolically on the world stage.)
On July 14, in her sleek, white, short-sleeved rectangle of a Louis Vuitton minidress, France's first lady, Brigitte Macron, looked modern and "democratic." She appeared as a partner in her husband's new young administration, while Melania Trump in Dior conjured a prerevolutionary, prefeminist era. That Vuitton minidress also telegraphed the sexually liberated 1960s, countering Melania's 1950s-era look. How fitting that Trump made his famous remark to Madame Macron — and then to her husband — assessing her physique. In Trump's universe, women are appendages to be assessed physically, objects displayed for the appraisal of men.
To her credit, Melania Trump chose her Paris wardrobe to honor France. In addition to Dior, she wore only other French designers during her visit, including Givenchy and her own frequent stylist, the French-American Hervé Pierre. She even  stuck throughout to a palette of red, white, and blue — the colors of the French and American flags.
Nevertheless, her look, read in the context both of the Dior show and the apparent direction of her husband's administration, made for a sobering message. This Bastille Day, the U.S. no longer felt like a co-celebrant with France, its republican ally.  On the contrary, seeing the Trumps in Paris was like coming face-to-face with the ghosts of anciens régimes past. Let's hope we all emerge unscathed from this gilded performance. Vive la République.
Rhonda Garelick is the author of Mademoiselle: Coco Chanel and the Pulse of History.