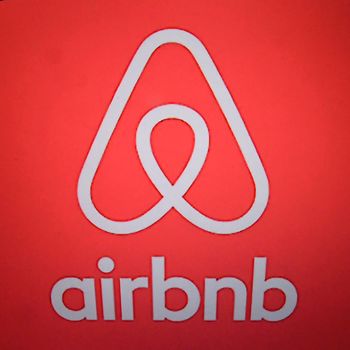 Photo: LIONEL BONAVENTURE/AFP/Getty Images
On Thursday, 51-year-old Leslie Lapayowker sued Airbnb, accusing the company of not properly vetting one of its 'superhosts' who allegedly assaulted her.
The lawsuit accuses the rental giant of negligence for allowing Lapayowker to rent a room from Carlos Del Olmo, despite a previous domestic violence charge against him. "They lure you in and give you this false sense of security," said Teresa Li, Lapayowker's attorney.
Lapayowker rented a room from Del Olmo when she first moved to Los Angeles in July 2016. Del Olmo was listed as a 'superhost,' which meant he had frequent guests and positive reviews. Lapayowker had planned to stay for a month, but left after three days because she says Del Olmo made "sexually suggestive" comments to her, pounded on her windshield while she was sitting in her car, and screamed at his son. When she came back to retrieve a laptop she had left behind, Del Olmo allegedly asked her to follow him into a room, where he locked the door, removed his pants, and began masturbating. After forcibly kissing her, and ejaculating in a trash can, Lapayowker claims Del Olmo said, "Don't forget to leave me a positive review on Airbnb."
Although she was initially hesitant to report the incident, Lapayowker eventually informed police and Airbnb. Law-enforcement officials declined to file charges because of a lack of evidence, according to Lapayowker's lawyer. Airbnb said it had conducted a background check on Del Olmo, but allowed him to be a host because he was not convicted. The company removed him as a host after Lapayowker contacted them.
"We are outraged by the reports of what happened to our guest, and we immediately removed this host from our platform," said Nick Shapiro, Airbnb's global head of trust and risk management. "The abhorrent behavior described has no place in our community and we will not tolerate it. We have been trying to support her in any way we can and we will continue to do so."
According to The Guardian, Del Olmo claims to be unaware of the complaint against him, and maintains the encounter with Lapayowker was "consensual." He says the woman who accused him of domestic violence is lying as well.
"I don't want this to happen to other women," Lapayowker said. "It was horrible, and I think that everybody should be warned that this could potentially happen to them or their daughter or their wife or their sister."